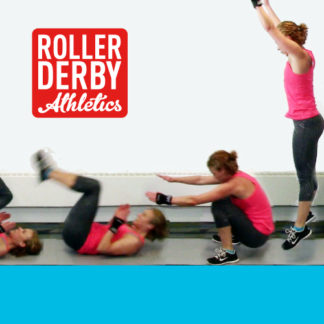 There was so much twisting, jumping, and rolling around in this workout, I couldn't resist completely punning up some classic swing music for you! 
So get your victory rolls set and your saddle shoes tied up tight. This workout is going to have you jumping, juking, rolling, and building great derby skills.  
We've got lower body cardio moves designed to build your power, agility, and explosive movements. We've got core strengthening moves to give your hits more oomph, and keep you balanced and steady. We put them all together with some short intervals, and voila – you're sweating up a storm and kicking more butt in no time.
Be sure to check out the bonus breakdown of the reverse burpees move at the end!
If you're an All-Star member here at RDA, you've got access to a real time video to follow along with, and a handy printable of this workout. 
Here's how the workout goes – you only need a mat and a timer to do this workout.
Each interval is 45 seconds of work, with a 15 second rest. Watch the video to learn how to perform each exercise. Two rounds will take 16 minutes.
Warm up!
Jumping Jack / Squat Jump Combo
Penguins
Reverse Burpees
Side Raise Left
Skiier Jump + Lunge Combo
Side Raise Right
Side to Side shuffles (Heismans)
Superman / Banana Rolls
Repeat the full series again for a second round! Want to really up your game? Do three rounds.
Don't forget to cool down and stretch – all the cool cats are doing it. (Sorry, couldn't resist one more swing pun).
SO… what did you think of those Rollbacks, aka Reverse Burpees?? Let me know in the comments! I'd love to hear from you!
xo Booty Quake
PS Subscribe to the email newsletter to get workouts like this delivered to your inbox!
PS If you're looking for some structure to your off-skate training, now is a great time to join a Roller Derby Athletics training program. Until Feb 25th, you can join up with a buddy and both get 15%-25% off! It's our Derby Love promo :)