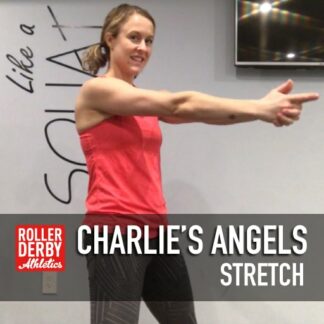 On #MaintenanceMonday,  I try to help you give your bod a little extra TLC. This week, it's an upper body stretch that feels F#$%ing amazing, for reals. 
You're going to make like the Charlie's Angels silhouette graphic, and use the ol' two-handed finger-gun to give yourself a wonderful movement and stretch through your upper back, shoulders and neck.
This stretch is especially timely because TODAY, my Sun's Out Guns Out Upper Body Challenge is open for registration! And during our Spring Sale (March 20-24) it's only $10 to register. You'll be needing some extra #MaintenanceMonday all week long with all the hard work we'll be doing on our arms, shoulders, and backs!
==> For more details on the SOGO Challenge, click here.
How to Feel Like an Angel:
When to do this: Any time; feels especially good after an upper body workout, scrimmage, or a tough derby practice.
Sets/Reps: Do three to five slow repetitions, with deep breathing. 
Do you love this stretch as much as I do? Let me know in the comments!
xo Booty Quake
PS: You can get all of the #maintenancemonday videos here.