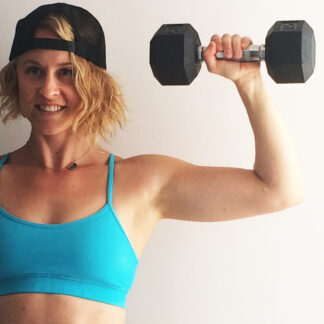 Sun's Out, Guns Out, my friends. 
With the weather warming up, and given what a hit this challenge was last year, I am very excited to be offering it for a second year!
Last year's participants did so well, learned a ton of new ways to train their upper bodies and core, and shared some truly impressive flexing-selfies in our group's Facebook page. I can't wait to see what this year's group will be able to accomplish.
==> Click here to join the Challenge.
Or, read on for all the details!
What:
A four week Challenge to build upper body strength and shatter your limits!! Pick your target: Push-Ups or Chin-Ups (or something else upper body related?) and we will work together for four weeks to help you reach your goals!
Where:
Wherever you are! Challenge materials will be provided via email and private Facebook group. You don't need gym access or equipment unless you're working on chin-ups and need the bar. If you ARE at the gym, you'll be able to add weights & machines to your Challenge workouts (optional!)
When:
Monday April 3rd to May 1st.
All the workouts are on your own time.
Expect to do Challenge work three days out of every four.
Workouts will be about ten to twenty minutes long – something you can add on to your normal routine!
Why:
Because we need super strong upper bodies & core strength for bracing and blocking. Chin-ups and push-ups just happen to be excellent, quantifiable measures of that kind of strength! Plus, we all obsess about leg strength, right? Time to switch gears ;)
Who:
Anyone and everyone who wants to improve their upper body strength! Doesn't matter if you're trying to get from knee push-ups to your first 'full' one, or you can already do 10 pull-ups but you'd like to do 20 – whatever your starting point is, this challenge will help you level up. 
How:
You'll have to join the Challenge to find out!! Kidding… sort of… We will definitely spend time on the target exercise (push-ups or chin-ups), but unlike other challenges where we *just* do that, here we will add in accessory exercises to build all the related muscle strength we need to improve. We are going to build a super strong core, shoulders, chest, neck, and back! You'll get planning tools, customizable workouts according to your starting point and goals, and group motivation through our Facebook group!
[If you're an All-Star or MVP Member, it's free!]
See you in there!
xo Booty Quake
PS: I almost forgot – there will be **prizes** for this challenge! We've got awards for the member who makes the biggest gains toward their goal, regardless of the starting point, one for the most consistent Challenger, plus a draw prize!