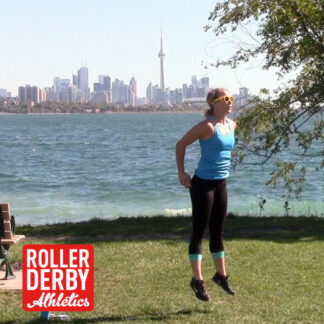 Sometimes you want to be invincible. Sometimes you need to feel like you can conquer anything!
That's where high intensity interval training (HIIT) comes in.
It's damn hard work, but in the end, you're ready to take on the world (and that scary blocker on the other team).
If it seems weird that I'm in Toronto and posting a video that looks like full summer… it is! I actually filmed this video on September 25th, a gorgeous fall day here, that also happened to be T-minus-two days before my ACL reconstruction surgery. Nothing like the prospect of a month on the couch to get me out of the house and filming some videos to have ready for you while I'm laid up!! Ha! 
It was truly a weird day. I had lots of running around to do, getting a million and one things prepped ahead of my surgery. It was incredibly surreal to know I was about to go under to fix a major injury, yet be working out in the park, riding my bike across town to pick up a set of crutches, and then riding back home… with crutches across my handlebars… (yep, I got more than a few weird looks!) I was feeling healthy, but knowing what was next on my "conquer anything" list.
I haven't fully conquered rehab yet, but here's what the Conquer Anything HIIT Workout looks like…  (Please excuse the sound on this video! It was super windy and loud, and there were some other groups around me in the park! But I hope you enjoy the backdrop anyhow!)
Note: All-Star and MVP members, your real-time follow-along video and printable are here!
Here's the drill:
You'll do each interval for 45s of work, and 15s of rest. 
Squat Jumps
High Knees
Power Push-Ups
Heismans
Sumo Squats
Squat Thrusts
Flying Plank Push-Ups
After the last interval, rest one or two minutes, then repeat all! It's 15 minutes total, and it will have you feeling invincible when you're done!
Now I want to hear from you!
What are you trying to conquer in roller derby (or cross-training) right now? Did you try out this workout? Let me know in the comments below!