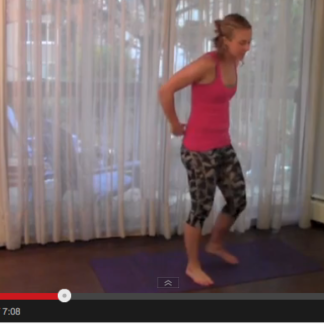 I'm stoked to bring you today's new workout for 3 important reasons… #1 – I asked you for the biggest challenges you wanted to overcome, and overwhelmingly, you said "endurance!" Ask and ye shall receive, my friends… mwahahaha… #2 – I have a new camera and microphone! As my teammate Chica Bomb said, "oh great, now you won't have to hear the hipsters in the back ground!" like my last video… hopefully the picture quality is way better too… #3 – this workout was SERIOUS BUSINESS. I filmed this workout the day after I did a variation of it to test it out for you guys, and by the time I was filming, my legs were already burning from the day before!
Here's the scoop on the Booster Juice workout:
Duration: as fast as you can complete all reps with good form.
Equipment: stopwatch
Instructions:
Strength Exercises: do 3 rounds of the following 4 moves:
10 x 10 sumo squat pulses…10 pushups… 20 lunge jumps… 20 roll-ups (pilates situps)
Booster #2: 20 Side to Side Power Planks
Tips:
For the burpees – proper form is: squat, plank, pushup, squat, jump! Don't cheat the quats.
The side-to-sides are counted as one per side – watch the video to make this clearer. So, from a crouch, you jump your feet back to plank, then towards your hands, then back to the left, then back to your hands for 1 rep. Repeat all to the right for rep 2… etc.
Try to keep really good form throughout! Keep your chest and head up during the sumo pulses and the lunge jumps. To be honest, in watching the video I realize that I can do a better job there sometimes too.
 Record your time! This is a great workout to come back to in a couple of months and see if you can beat your time. Leave me a comment below and let me know your time or just what you thought of the boosters.
See you next time!