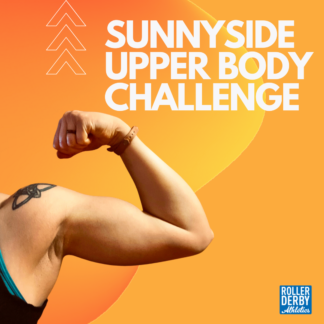 Frequently Asked Questions…
Q. What's the Challenge? What will we be doing?
A. Sometimes when we sprain our wrists or put too much strain on the shoulders, we think, "But I only need my legs to skate!" But really we need several areas of our bodies to work together, and today we're focusing on the upper body.  Without strengthening your upper body, more strain is put on your lower back as it has to compensate for the arms and shoulders. Have lower back pain? Building your upper body muscles may help. Our upper body gives us the stability we need to continue rolling along (in a somewhat upright position, at least).  Learn how we can help on the Challenge page!
Q. What do I need to get involved?
A. Facebook, Email, and a mobile device for the RDA Fitness App; a small space where you can work out; some motivation and your $45 payment (or an active Membership)
Q. Where does this happen? Do I need to be where you are? What time zone are you in?
A. You can do this from anywhere in the whole wide world! We will try to base posts & email timing on North American daytime, as that's where most of our followers live.
Q. Is this for weight loss?
A. This is for health, with a focus on physical fitness. We're not nutritionists and there is no food plan involved. Sunnyside Upper Body Challenge members might feel frisky and share some healthy recipes, and we may share some healthy eating tips if asked but it's not the focus.  This Challenge is great to up your core strength, shoulder stability, and general tank top vibes.
Q. How do I get in?
A. When you complete the checkout process, you'll automatically be added to the RDA Fitness App, and we'll send you details to get invited to the Facebook group. All the details will be distributed through email and the app.
Q. Why does this cost money? Is it worth it?
A. Fantastic question. Studies show that people are more likely to stick with something they have invested in, over something they have joined for free. Plus you get a whole bunch of workouts to get you through the Summer feeling strong and healthy. For a little over a dollar a day, we'd say it's a screaming deal!
Q. So, you're saying I should sign up already?
A.  You betcha.