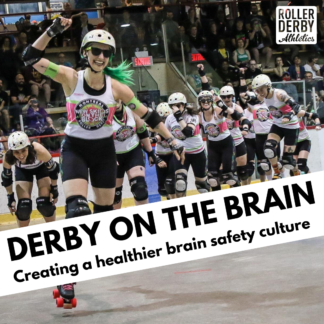 Hello and welcome to our newest contributor to the Roller Derby Athletics blog! Kaio-kensi (she/her) is one of the 2019 team captains of the New Skids on the Block of Montreal Roller Derby. She has a background in neuroscience, sport & community recreation program curriculum development, coaching, fitness, and risk management. She is a content contributor for Roller Derby Athletics – writing about a variety of topics for the RDA blog.
_____________________________________

Hey RDA community! I'm super stoked to connect with you all on topics I am passionate about. I care a lot about breaking down the barriers in the roller derby community that prevent healthy relationships and accessibility, and about promoting a physically and mentally safe training environment – with a frequent emphasis on brain safety. Let's pursue the limits of what the human spirit can accomplish on and off the roller derby track.
Steps Players Can Take Toward a Healthier Brain Safety Culture
Welcome to the first instalment of my "Derby on the Brain" series for Roller Derby Athletics. I speak a lot about creating a healthy brain safety culture, and the question that I hope to answer through this series is "where do we start?". As I mentioned in my recent RDA Instagram takeover, there's a lot to unpack around brain safety in roller derby, and I'll be breaking it down into 3 main areas where we can focus: risk reduction, concussion protocols, and attitudes & behaviour.
As a community, we can tackle these areas differently depending on the roles we play. There are different steps that players, captains, coaches, officials, medical staff, Boards of Directors, businesses, and governing bodies can take toward building a strong, healthy, and accessible brain safety culture.
Today, I'm looking at some of the ways individual roller derby players can help create a healthier brain safety culture. The most accessible step that roller derby players can take is through their attitudes and behaviour, so we're going to start there.
Step 1) Start the conversation
Educate yourself and recruit others to the conversation (share resources, articles, support). Talk more about brain safety with your teammates and coaches. Think about brain safety when your team, league, and governing organization make choices about how practices and events are run, and ask questions.
How are we managing the risk? Do we all feel comfortable with this strategy/technique? Are we prioritizing winning over the longevity of roller derby athletes? Is there a way that we can effectively penalize or reward certain behaviours that threaten or support positive brain health outcomes?

Step 2) Take care of each other
Concussions are scary. Not knowing whether you have a concussion or not is also scary. Having to make a decision by yourself or take care of yourself when you are experiencing concussions symptoms can be overwhelming and isolating. Support your leaguemates' brain health by encouraging them to take a break and/or stop entirely after hits to the head, neck, and back, or hits to the body that result in concussion symptoms. Help foster an environment where people feel supported and encouraged to preserve their health. Let them know that you will all step up and that they can take the time they need to be sure they are okay.
If a teammate is removed from a game or tournament due to injury, check in on them during the tournament, and continue to check in on them after the games. Being a good friend and leaguemate takes no special training, but can make a world of difference in establishing a healthy brain safety culture.
Step 3) Be open and willing to adapt your technique
Concussions are not exclusively caused by hits to the head, neck, and back (illegal target zones in roller derby), but hits to these areas of the body present an especially high risk. We need to be comfortable talking about hits to these areas and how we can adapt to help prevent them.
The tricky part about these conversations will be that heightened emotions are often involved. It's super common to feel defensive or helpless when someone tells you that you hit them in the head/face/back. The goal of the conversation will be for the person who got hit to feel acknowledged, and for both parties to better understand what led to it (e.g. Were one or both people playing with their heads down and no sightline to their own actions? Were you not paying attention? What can be done to help prevent the same scenario playing out again?). The formula is Acknowledgement + Analysis. We own our actions, and don't have to dwell on them. We acknowledge the impact, and then we do better.
During my RDA Instagram Takeover, one of the questions I asked was "Do you feel comfortable talking to teammates about high blocks you receive at practice?". Out of 500 people, 61% responded "yes", and 39% responded "no". My challenge to you: be part of the culture shift that makes 100% yes possible.
That's it for this edition of "Derby on the Brain"! I'll be back soon! Until then, show your brain some love, and take care of each other.
___________________________________

You can catch Kaio-kensi diving into this subject more in depth, with a focus on how coaches can foster a healthier brain safety culture, at the 2019 Derby Stance Online Coaching Summit (November 22-24).
You or your league can purchase a Live or "Watch Later" pass to the entire summit or to either of Kaio's seminars, "Building a Healthier Brain Safety Culture" and "Organic Drill Design: Replicating true game scenarios in drills with position-specific planning".
Stay tuned this month for another RDA Instagram Takeover by Kaio-kensi about Organic Drill Design. You can join our newsletter list to get updated before the Q&A comes up and follow us on instagram!