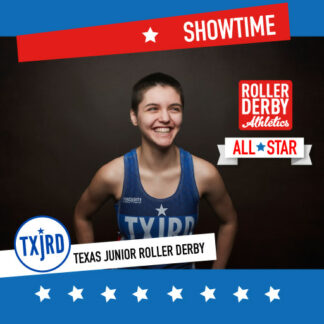 To kick off 2018, I'm celebrating some of Roller Derby Athletics' favourite athletes from the past year! These skaters worked their butts off, were super consistent, and really stepped up their game this past year. All of the RDA Coaches and I are super proud of these #rdaallstars!
Introducing: Showtime! with Texas Junior Roller Derby
This 15-year-old skater first joined Roller Derby Athletics with their derby-playing mom, working out together. They absolutely crushed it on our Sun's Out Guns Out Challenge last year, doing zillions of assisted push-ups with Dad helping out. Showtime is dedicated, consistent, and keeps a super-positive attitude no matter what challenges they face. We love how that sunshine rubs off on their fellow challenge participants in our group chats!
Showtime has previously skated (as Valkyrie Vixen) with the Austin Derby Brats and the Rockin' City Rollers.
Photograph by Rachelle Bendixen
Q&A with Showtime
What do you get up to when you're not playing derby?
– Archery, swordsmanship, parkour and running while using the Zombies, Run! app on my phone
– Leatherworking, crochet, sewing, and I am interested in learning how to blacksmith
– I am homeschooled and my favorite subjects are biochemistry and math
– On my own time, I am learning coding and computer animation

Any big successes or milestones for you in derby recently? Joining my dream team, TXJRD! Getting to play derby with my sibling, Centurion!
What are you working towards in derby right now? Getting to know my new teammates better, and my upcoming WFTDA Skills Assessments.
How has off-skate training contributed to your derby experience? I have a congenital muscle weakness that affects half of my body; thus, it makes athletic endeavors difficult. It can be really frustrating and it puts me at a slightly higher risk of injury. Off-skate training has allowed me to balance out this variance and it has and continues to improve my performance immensely.
Not only has training with RDA helped me become a better derby player, I have become a better runner, traceur, swordsman, and archer. Off-skate training has especially helped my endurance, strength, and confidence.
What is your favourite thing about training with Roller Derby Athletics? Getting to meet Booty Quake! I am so appreciative that Booty is so patient and supportive even during frustrating times!
Do you have a favourite RDA workout?
Boxing Day Boxes [a Box Jump workout from our Candy Cane Crew challenge group!]
Sun's Out Guns Out Challenge [upper body challenge group – coming again in June 2018!]
Anything else you want to tell the world about your derby or training experience this year? Over the past year I have grown stronger and more confident then I have ever been and it is and has been a pleasure and a privilege to train with RDA!
~~~~~
Aw shucks, Showtime! It's been an absolute pleasure to have you. We just know you're going to do great with your new team at TXJRD this year!
Want to feel #unstoppable just like Showtime? Come join the RDA training community and be your best on the track! www.rollerderbyathletics.com/plans