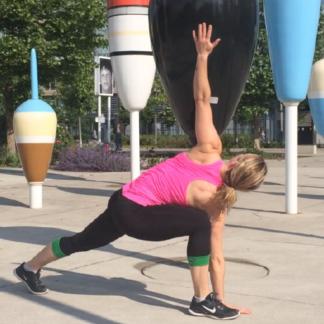 Is that you? Late for practice again?
Or maybe you're trying to slot in a quick but intense workout on your lunch break?
I've been working on warm-ups and cool-downs, aka "flexibility training" a lot lately (You can check out my Pre-Hab! On-Skate Warmup, the Quick and Dirty After-Derby Stretch, and How to Stretch Everything in Eight Minutes). So the other day I came up with something I know everyone needs now and again… a really, really short but effective full body warm-up to get you ready for whatever is coming at you.
I filmed it up for you, so without further ado… Here's how to get your entire  body warmed up in less than five minutes.
The Super-Ultra-Quick Warm-Up drill:
All-Star Access subscribers —RIGHT-Click here instead (choose 'open in new tab'), to get your real-time follow along video and printable!
25 jumping jacks
25 high knees (L/R = 1 rep)
25 bum kicks (L/R = 1 rep)
60 seconds (total) of Bear Crawls – forwards AND backwards.
5 Superhero stretches each side (Lunge, twist to knee, twist away from knee = 1 rep, 1 side).
20 Walking Lunges + knee ups (total reps, so 10 each side)
20 Heel Reaches (total, so 10 each side).
After just under 5 minutes, you should be completely warmed up and ready to rock!!
**note: For your regular warm-ups, when you hopefully have a bit more time, I recommend a longer dynamic stretching routine with more mobility exercises for all your parts. Including this type of work in your routine helps keep all your joints and muscles lubed up, so to speak. This quickie version is just for days when you're in more of a rush, OK?
So… what did you think of this warm-up routine? Did it get you all fired up?? Tell me about it in the comments!
Want more free workout videos? Click the "WORKOUTS" link in the sidebar to the right!