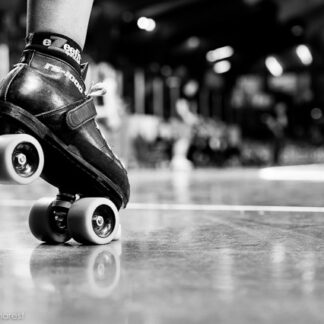 Photo courtesy of my favourite skate shop, Rollergirl.ca!
You don't need to practice every day, or have natural born talent to improve at roller derby quickly. You just need to follow the Secret of 1%.
Let me explain.
Have a good look at this next statement. What do these two equations mean to you?
1.01365 = 37.8
0.99365 = 0.03
If you're not a math person, fear not. I will break it down. Stick with me.
If your baseline level of input (call it effort, skill, f*&ks given…) is 1, and every day for a year you perform at the exact same level, at the end of 365 days, your output will be exactly 1. One point oh. No change.
So let's say your baseline level is 1, and each day you add one percent improvement, cumulatively, every single day, for a whole trip around the sun. After three hundred and sixty-five days, your output will be = 37.8.
Now let's say, on the contrary, from that same baseline of 1, you do a little less, try less, or let your skills or abilities deteriorate just a little bit. You put in 99% of what you did the day before, every day. Well, after a year, unfortunately your output has dwindled from a nice round 1.0 all the way down to just 0.03. A paltry three percent of where you started.
This demonstrates that tiny but consistent efforts in the right direction can have a massive impact.
As our equation showed, just one percent change in either direction made a huge difference. The person who put in 1% more each day wound up 38 times better than the person who stayed put, and 1,482 times better off than the person who put in 1% less every day.
Here are Seven Simple Ways You can Apply The Secret of 1% to Improve at Roller Derby:
1. Go to practice. Go. To. Practice. When the couch is calling your name, when you forgot your scrimmage shirt when you left for work in the morning, when you're rehabbing a minor injury and can't do contact… just go. The more repetitions of each skill you can accomplish in a week, a month, or a year, the better your skating will be.
2.  Be stoked for 1% improvement. Don't fret if you didn't nail a new drill on the first try. Figure out what small change you can make personally, or as a line or team, to get better at the drill. If you consciously attempt to get just a little better at a given skill at each practice, you will find yourself mentally preparing, asking questions, requesting feedback, and generally doing all the things great athletes do in order to improve.
3. Acknowledge small gains. "Well, the jammer got through on the inside, but at least this time our wall stayed together!"  Remember, for Olympic-level athletes, the difference between a Gold Medal and 4th place (aka "Sorry, nice work, but no hardware and no glory") can be less than one tenth of one percent. Small victories are still victories!
4. Journal. Take stock of how you're feeling in your skates on regular intervals. Are you: confident, anxious, uncomfortable, determined, strong, unsteady, embarrassed, feeling out of your depth, improving, building…? While you're at it, identify some quantitative aspects of your game as well. If you're a bouting skater and have access to game stats, track your percent lead jam, or your plus/minus rating, or your average number of penalties per half. If you're not yet skating in bouts, focus on quantifying things like your basic skills (How long for a single lap? How many laps in 5 minutes? Or a simple can/can't achieve Skill X). Tracking your experience is a great way to actually identify the gains you're making over time! 
5. Focus. Figure out the areas where you'd like to make BIG improvements quickly, instead of a mere one or two percent. Set some specific targets, and focus your energy on the stuff that really challenges you. If you made 1% improvement across the board, would it make as big a game day impact as making a 50% improvement in your endurance, or reducing your penalty time by 25%? (Pro tip: improving your endurance is very likely to reduce your penalty time all by itself!)
6. Rest 1% better. Make your time away from derby work for you. Skaters need rest days (a friend calls it his "day of growth") and mental breaks from roller derby, to replenish ourselves with other pursuits, family, and friends. So don't feel like you're backsliding whenever you're away from your training! Amplify your breaks and rest days; make conscious efforts to take good care of yourself, and turn your derby brain right off! Rest can be a powerful tool, so don't half-ass it.
7. Turn your body into a tool to support your improvement. I suppose I couldn't really write this piece without giving a plug to your off-skate training… right? So here it is. Take consistent care of your body, and give it the love and strength it needs to help you be amazing on skates. That might mean springing for a massage or physio treatment to deal with an injury and prevent it from getting out of hand. It might mean lifting just a little bit heavier every week at the gym. It could mean pushing yourself just a little harder than the skater next to you.
~~~
Remember, the Secret of 1% is small but consistent effort.  By doing 1% more each day, whether it's off-track, resting, or striving to be 1% better in each drill at each practice, you will see improvement!