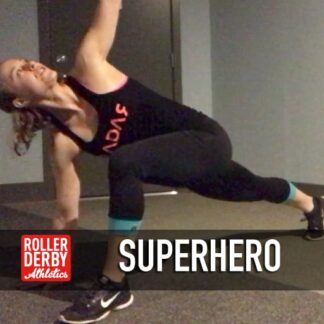 On #maintenancemonday,  I try to give you a little something wonderful to do for your body! We spend enough time bashing ourselves (and others) around, that it's important to remember to take a little time for maintenance.
I've been using this move to warm up my teams, and in my own off-skates training sessions, for about a year now. It's a really fabulous many-in-one move that gets your hips, back, and chest all opened up in a jif!
Superhero Stretch
So I'm calling it a stretch because "Superhero Mobilisation" doesn't have quite the same ring to it… let's call it a dynamic stretch for short, meaning, it's a great thing to do before exercise.
When to do this: After warming up with some light cardio activity for 3-5 minutes, before a practice or workout.
Sets/Reps: Try 5 reps each side, alternating. Remember, you twist twice per side for one rep.
>> Want more of these? You can get all of the #maintenancemonday videos here.
Feel free to ask questions in the comments below, or let me know how this movement works for you!
xo Booty Quake