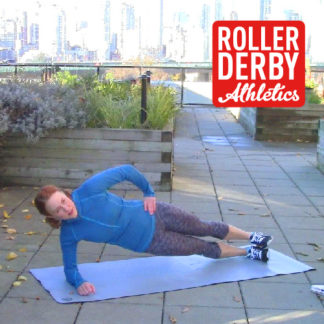 Once upon a time, not so long ago, a girl thought she'd make some workout videos for derby players.
I'll show them how to train for derby, she said. I'll make them do cool workouts that are sport specific, she said. I'll just buy a camera and learn how to use editing software! I'll write some scripts. And make a website. And build some sport-specific training programs. And make a standard derby fitness test. And blog about it…
And somehow, to her surprise, that girl began to reach skaters from around the world, helping them meet some of their derby and fitness goals. And along the way, she learned how to make the videos look a little more professional, and prevent her pants from falling down in the middle of them.
That's right. One of that girl's first videos ever was the Killer Core 250 Workout, and it featured an excellent wardrobe malfunction. Good times.
Nevertheless, the workout still has its merits – it worked on lateral stability and core strength that is directly applicable to delivering or receiving hits and staying on your feet when you get knocked off balance. Plus it made us huff and puff, AND it involved absolutely zero crunches. Hooray! So with all that in mind, that girl from 2 years ago is still working away at it, and trying to bring the derby community some helpful content that will make everyone be more fierce on the track.
I bring you, therefore, the Killer Core 251 workout! Revamped, updated, and with one extra rep added for good measure!
If you're an All-Star member here at RDA, you've got access to a real time video to follow along with, and a handy printable of this workout. 
Here's how the workout goes – you only need a mat to do this workout!
Warm up
30 High Knees (60 steps total)

20 Flying Plank Push-ups (10 each side) 30 High Knees

10 Side Lifts

10 Side Lifts (side 2)

30 High Knees

20 Bicycles (10 each side)

30 High Knees

20 Lizard Planks (10 each side)

30 High Knees

21 Starfish Situps



If you want to make this workout harder, repeat all again!
Do you have another great derby-specific core move that's not shown here? Leave me a note in the comments below – there might just be a prize involved!!
xo Booty Quake
PS Subscribe to the email newsletter to get workouts like this delivered to your inbox!
PS again – stay tuned for info about our Christmas Sale, in collaboration with Pivotstar! For all you last-minute shoppers and folks who want to get prepped for your January fitness efforts :)