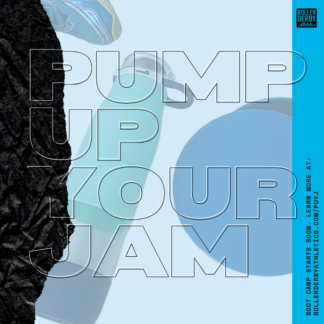 Self-love comes in many forms, and taking a step towards getting in shape off skates, to better your time on skates, is like writing a love note to your body. Well, we have good news for you – by joining our Pump Up Your Jam boot camp, you'll be doing JUST that! So make the choice for yourself today, and sign up here!
Want help boosting your cross-training? You're in luck! Roller Derby Athletics' Pump Up Your Jam boot camp, previously member's only, has now been opened to non-members. This exclusive boot camp is great for any level of skater who is looking for a full body, comprehensive training program to kick your fitness into high gear. This boot camp is perfect for skaters who want an intense fitness boost to transform their game, including endurance.
The "Pump Up Your Jam" Boot Camp starts September 13th and we'd love it if you could join us! Free for MVP members. Curious to know what to expect? Watch this Facebook Live we had that features a boot camp sneak peek. Some common total body exercises include:
Pushups
Bodyweight Squats
Side Lunges
Basic Bridges
Bicycle Sit Ups
Supermans
We can't wait to see you in the boot camp on Monday 9/13! Let's get pumped!