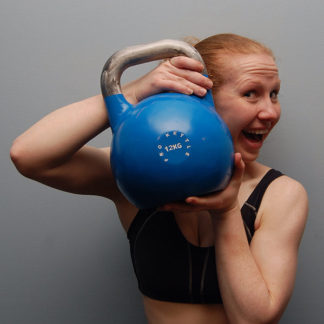 Lilith NoFair has been cooking up healthy food to fuel us at Roller Derby Athletics for over two years now. We learned a bit about what makes her tick in a fun video chat way back when…
…but with lots of new faces around Roller Derby Athletics these days, I wanted to take a minute to (re)-introduce the mistress of our Derby in the Kitchen series!
I checked in with some Qs, and here's what Lilith NoFair had for her As!
BQ: Just to get us started with some background, what's your derby story? Where have you played and coached?
LNF: I started playing derby back in October of 2009, with Tri-City Roller Derby. I've been with them ever since, in a whole host of roles – skater, coach, head of training. I'm currently one of the coaches of the Tri-City travel team, a coach at Tri-City Junior Roller Derby and Assistant Coach of Junior Team Ontario.
Tell us about your day job.
I work at a funeral home. It could not be more different than my life at derby and in training.
That's pretty cool! So, what made you want to pursue a side gig in performance nutrition?
Part of what started me down this road was my participation in derby – I saw so many skaters aiming for high-level performance, but not knowing how to fuel those goals so I wanted to learn more so that I could help them get there. I've also always loved cooking, eating and learning about food, so it was a great fit for me.
As a coach, do you have nutrition rules or programs that you suggest (or insist?) your team members follow?
Great question. As a rule, I don't really have "rules", but rather suggestions for behaviors that you can incorporate into your day-to-day life. I've found that "rules" can be a big challenge for people, especially if they are really new to eating for performance.
Are they receptive to your advice, or are they resentful and would rather be able to just eat cookies and cheese full time?
A bit of both. My coaching style absolutely makes room for things like cookies and cheese – it just makes sure that you're full up on leafy greens and lean proteins before you even start thinking about treats.
What's the number one nutrition challenge or mistake you see with roller derby athletes? What's the solution?
Eating too little. Especially too little protein (and often too few healthy carbs). People sometimes think that "eating healthy" means eating less, when that's often not the case. For many people, it's just a lack of awareness. Tracking what you eat AND your activity can really help to illustrate what you need to be eating and when.
You have a lot (no, really a lot) of letters after your name. Want to tell us what they all mean? Besides the fact that "you so fancy!"
Ah yes, all the letters –
UGPT – University of Guelph Personal Trainer
FMS – Functional Movement Screen
SFG2 – Strongfirst Kettlebell Trainer, Level 2
SFB – Strongfirst Bodyweight Trainer
PN1 – Precision Nutrition Coach
So, besides your nutrition expertise, you're also a pro at the gym! Tell us more?
I'm a kettlebell nut! It's a huge part of my own training and that of my clients. I love the sense of movement practice that kettlebell work gives. When you train with bells, the focus is not so much "doing a workout" as "refining a pattern". Also, kettlebells are like the most portable gym ever! Great for derby travelling!
Alright, back to the food… what's your favourite healthy food?
Oh man. All of them? Right now I'm on a pretty big avocado kick. I've started making tuna salad with avocado instead of mayonnaise and its super boss. Halve and mostly hollow out a ripe avocado, mix what you've scooped out with a can of tuna, some green onions and some cracked pepper. Holy beans, it's so good!
Sounds healthy and tasty. I'm gonna go have that next! What about an unhealthy food you love? I'm not gonna call it a guilty pleasure, because I don't ever feel guilty when I eat treats!
I love salty foods. So cheese, chips, straight up salt on stuff. Everything in moderation :)
Yeah, I can get behind that. Mine is Fireball Whisky, for the record (I can feel the judgement coming down from the internet already…) OK, Final Jeopardy. Tell us two weird things that only your teammates would know about you!
After our trip to Tucson playoffs last year, my travel teammates will know that I could legit eat Mexican food every single day and never, ever get tired of it. My teammates also know that I long for a pick-up team with "nude" as their team colour. Skin tone bodysuits, bedazzled numbers. My secret nickname has been "Lilith NoPants" for quite some time now.
LOL. I'm in, pick me for the team!!
~~~~
Have you got your own Qs for "Lilith NoPants" to answer? Questions about how to fuel yourself as a roller derby athlete? Ask away in the comments!  And of course, you should check out the membership options at RDA, because LNF delivers a new Derby in the Kitchen column every two weeks for members!