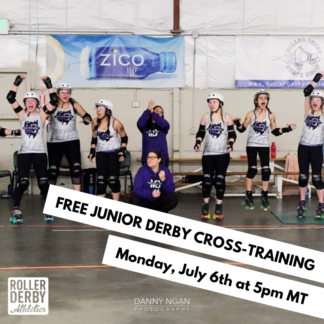 Free Junior Roller Derby Cross-Training Session
BadBrand led a FREE super fun, super kick-ass workout session on Zoom just for junior roller derby players a few weeks ago and has been asking ever since when we can set up another session for her to do!
We are super happy to announce it's happening again! ALL JUNIOR SKATERS are invited to get together (for free!), online, with BadBrand and all your awesome derby skating buds for a fun workout. Boutfits absolutely encouraged ;)
CLICK HERE to register for the free (juniors only) training on Monday, July 6th at 5pm MT
Junior Roller Derby Team Training
We offer team training to both adult and junior derby athletes. Junior training plans can be incorporated into our League-level MVP Team Training OR we can customize our Essentials Team Training program for your junior team.
Find out more about Junior Roller Derby Team Training
RDA uses our custom training app to deliver targeted off-skates training, supporting the muscles and movements all skaters need to keep their bodies strong and succeed in our sport.
NO gym, NO in-person contact, and NO equipment is required for our programs.
YES to team bonding, YES to team accountability, and YES to being SAFE, STRONG, and UNSTOPPABLE together!
Our coaches understand the needs of youth athletes and love working with the next generation in derby. BadBrand is passionate about junior derby and has over 17 years of experience coaching youth in junior roller derby and as a Skate Canada Professional Figure Skating Coach while coach Maloik is a Board Certified Trainer and holds a Master's degree in Exercise Physiology from the University of Cleveland.
We are the leaders in home-based, roller derby cross-training and have been for over 7 years. Our coaches and support staff are highly trained professionals, dedicated to our athletes being SAFE, STRONG and UNSTOPPABLE on and off the track!
Questions? Wanna know more? E-mail [email protected]!
We are aware that Covid has drastically effected the ability of teams to get together in person and play the sport we love. We want all teams to be able to work together to stay DERBY STRONG. Right now we are waiving the $99 set up fee, lowering monthly rates for the first 3 months, and making a donation to a US food bank or Canadian food bank for every team that signs up.
Sign up for more info on Junior Roller Derby Team Training
[activecampaign form=37]