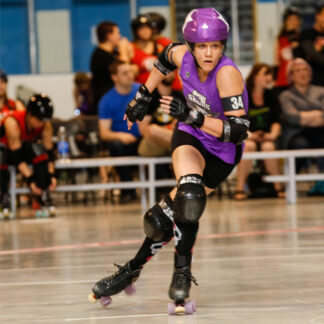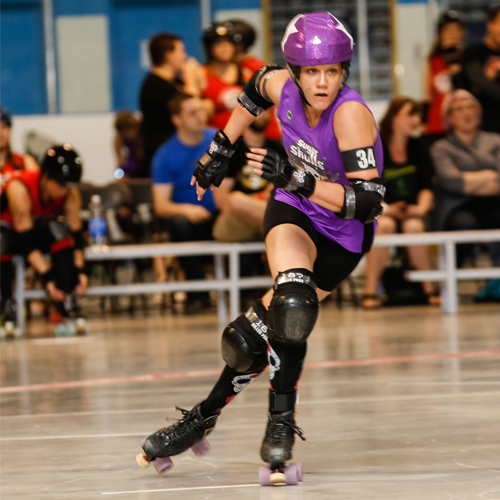 BadBrand (aka Sheena Goodbrand) has been a dedicated RDA athlete for over 3 years and attributes her success and improvement on the track to her off-skate training with Booty Quake's programs. She is the new Head of Training for Pile O' Bones Derby Club in Regina, SK, Canada, a jammer for the PBDC Sugar Skulls, and a member of Team Sask for the past 2 seasons. BadBrand was part of the support staff for Team Australia at Mens Roller Derby World Cup 2016 and was proud to watch them earn the Bronze Medal.
Off the track, BadBrand is a Registered Massage Therapist with over 10 years experience, and is working towards her Bachelor of Health Science. As well, she is a Professional Skate Canada Coach with 17 years experience teaching figure skating, and a Certified CanPowerskate Instructor. BadBrand loves to apply her figure skating and RMT knowledge to roller derby training and is passionate about helping others achieve their game and fitness goals.
If you can't find her at the rink or on the track, then she is probably in a skatepark somewhere! BadBrand is a dedicated Chicks In Bowls skater, one of the founders of Chicks In Bowls Regina, and an active player in IGORS (International Game of Roller Skate…look it up!). Her motto is #skateeveryday! She also enjoys eating every 2.5 hours, savoring gin and tonics, and living life to the fullest with her two daughters.