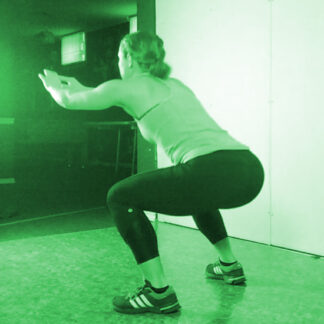 You say ta-bay-ta, I say ta-bah-ta… Either way you slice it, Tabata is a great type of workout to try if you're pressed for time but want to make an impact. It takes only 4 minutes, but even a session as fast and furious as that can actually make a real improvement to your skating!
So what is Tabata exactly? It's an interval workout with 8 short but very intense intervals, lasting 4 minutes total.
Science alert! This very precise protocol was created by Professor Izumi Tabata and tested on speedskaters. Compared to a control group who trained only in long steady-state (in other words, aerobic, 70% of VO2 max) workouts, the skaters who trained regularly using the high intensity, short time Tabata workouts gained more VO2max volume, and also improved their anaerobic capacity. Plus, they did it all in a fraction of the time. Which leaves more time for drinking beers and listening to the Derby Deeds Podcast!
Don't let the terminology get your booty shorts in a twist. Tabata is just one style of HIIT workout (High Intensity Interval Training, like most of the videos here on Roller Derby Athletics).  For this one though, the intervals are SO short, and the whole workout so abbreviated, that for it to work, it's on your shoulders to make sure you're giving 100% for each work interval. In fact, just to be on the safe side, shoot for 112% ;)
Here's the drill:
You need – a warmup, and a timer. I always use the Seconds Pro app available in the App Store. Set it for repeating intervals of 20s work, 10s rest x 8 rounds.
Do two rounds with no rest in between:
Power Jacks
Half Burpees
Mountain Climbers
Squat Jumps
Do you think this is something you can do with your team before or after practice for a quick hit of plyo-cardio-goodness? Tell me about it in the comments below!
xo Booty Quake
PS: if you're diggin' the Tabata, check out my other Tabata style workout video, Ready for Battle.