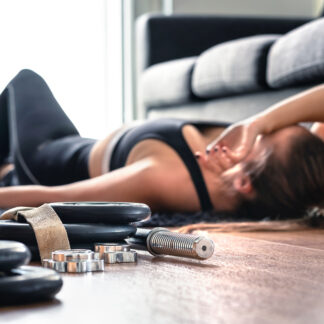 Something new here – I'm really interested in your feedback on this one! I've recorded a real-time video here. No edits, no cutting between exercises. For the first time you can set up the video and do it along with me, at the same time.
Love it? Hate it? Let me know in the comments below!
Note: if you open up the video in YouTube, there are hyperlinks to the different exercises so you can skip through if you don't want to watch me huff and puff through the whole 9 minutes.
The workout itself is a core strengthening routine. The whole thing happens down on the mat, and it will require a lot of weight bearing on your arms, so people with wrist, elbow, or shoulder injuries should modify according to their doc's suggestions, or avoid this one altogether. The workout begins and ends with a simple, gentle exercise called Bird Dogs, to engage your back muscles. We tend to focus on our abs too much and neglect our backs, so this will balance things out a bit.
Here's the drill:
Equipment: yoga mat
Workout: (all rep counts are alternating sides, so you count rep 1 for the right side, and rep 2 for the left side, and so on back and forth)
Bird Dogs x 10
Angry Crabs 'A' x 20 |

Pendulums x 30

Pushup + Praying Mantis Plank x 20 |

Pendulums x 25

Side lifts left x 20 |

Pendulums x 20

Side lifts right x 20 |

Pendulums x 15

Angry Crabs 'B' x 20 |

Pendulums x 10

Bird Dogs x 20
Please warm up first! Pay attention to your hamstrings, shoulders, and chest especially! And do a cool-down stretch at the end.
Let me know how the full-length format works for you (or doesn't!)