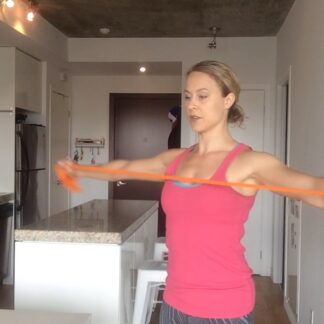 This movement prep will help you be more successful in your upper body workouts, by improving your mobility and stability while warming you up!
The video itself takes a little longer as I walk you through the do's, don'ts and alternatives, but the whole warm-up routine should not take you more than 5 minutes. 
Do: Follow this sequence before doing heavy lifting or extensive upper body training.
Don't: Let your ribs poke forward during pass-throughs, pull-aparts, or cactus arms.
Here's the sequence:
10 Pass-throughs
10 Cactus Arms
10 Wall Push-ups
10 Pull-Aparts – overhand
10 Pull-Aparts – underhand
10 T-Spine roll-outs in each position (or modified Cobra stretch)
10 Wrist rotations each direction
Tried it? Got questions? Let me know in the comments, below!
xo Booty Quake