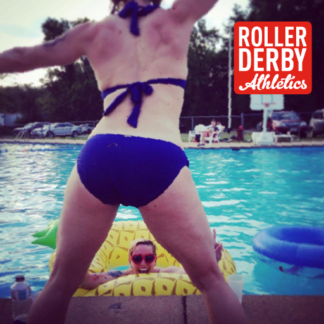 I can hardly believe it.
The summer solstice is behind us, and July is barrelling down the pipe! A massive holiday long weekend is kicking things off, and we North Americans will be up to our teeth in picnics, tiny flags, and fireworks (plus probably just a smidge of beer).
After that it's non-stop travel for Roller Derby Athletics, as I'll be making appearances at Men's Roller Derby World Cup in Calgary, then Rollercon in Las Vegas, of course.
It got me thinking that many of you might also be fretting over how to keep up with your fitness goals and routines, while still trying to make the most of the long days, summer sun, and holidays. Because, #quadgoals and #gainz don't always play nicely with #pooltime and #happyhour.
I have a few tricks up my sleeve, and I'm here to tell you that you can have it all – you can stick with your program and still have "giant-pineapple-shaped-pool-floaty"-sized fun too!
Photo Credit: Renée Lung, featuring my butt and Joss Wheelin's lovely face at the Camp ECDX pool after our final bout last weekend!
RDA's Summer Gainz Guide, aka "That Sunscreen Looks Good on your Muscles"
When you're leaving your normal routines behind to chase some summer fun, follow these tips to keep your gainz on track.
Tip #1. Set expectations ahead of time – yours and your travel partners'.
Be realistic with what your holiday plans will allow. Don't commit to daily two-hour workouts, if you know it means you'll be missing out on making memories, or it's just technically not feasible on travel days. Instead, plan for ONE long workout and then twenty to thirty minutes a day the other days, for example.
Make sure your travel crew knows ahead of time that you intend to get your sweat on during your trip, so that everyone is on the same page and feathers don't get ruffled. If your buds know ahead of time that they will need to accommodate your workout into your daily routines on the road, they'll be that much more likely to support your efforts and assist you in making it happen.
Even better, invite your pals to participate. If they're derby folk, then it's a slam dunk. If you've got kids in tow, let them ride tricycles around you in circles while you do burpees, or splash around in the pool with floaties while you aquacise – whatever it takes, right?
Tip #2. Be Efficient.
Nothing ratchets up your heart rate, gets your lungs pumping, and muscles burning quicker than a HIIT workout. Intervals are your friend if you're trying to pack a lot of work into a short time window. Get your quick hit on with the 

Bounce With Me HIIT Workout

, for example.
Prepare ahead. If you already know the closest gym to your rental cottage and what their hours are, you'll be ahead of the game in helping plan your days around your workout, while minimizing inconvenience to your crew. Likewise, if you do some homework to locate a gorgeous trail hike that's a short detour from your road trip route, you can help steer the fun in a fit direction for the whole gang.
Tip #3. Make it fun!
If your goal is simply to be active every day, then "activate" your vacation activities. As I mentioned in my vacation fitness tips video a couple of years ago, take something you already enjoy, and activate it with movement! Instead of lying on the beach, play Frisbee on the beach. Instead of driving through the national park, pull over, get out, and hike up to a vista.
Tip #4A: Be flexible.
In the name of 'something is better than nothing,' be ready to accommodate some edits to your normal routine or plan. If you can't get to the gym for your normal strength routine, for example, then use the opportunity to switch things up and challenge yourself with a bodyweight strength session instead – like the Basic Training workout, which is lifted straight out of the upcoming Pump Up Your Jam training program (keep reading for more details on that!)
If you'd really like to run 10k, but your family is grumpily waiting for you to let the day's adventures begin, then be ready to agree to a 5k tempo run instead. Again, you're still getting something done, and chances are your bod will benefit from a bit of rest just this once.
Tip #4B: On The Other Hand…Be Structured.
You know yourself best. If you know that you are unlikely to stick to a self-guided program that involves adjustments and changes every day to accommodate holiday activities, then consider simply committing yourself to a structured workout program, and doing what it takes (waking early, reducing beach time, etc) to stick with it.
Tip #4C: Or, Be Both!
Like working out in the morning? Great! Need to do it in the evening after things have cooled down for the day? No problemo. If you want to chunk a few workouts (like a strength, a core, and an interval) on one day, you can go for an hour-plus. If you only have short windows to work out in, you can do twenty minutes here, and twenty minutes there.
May you have a fabulous summer of fun and fitness…
Last one in the pool is a rotten egg! xoxo Booty Quake