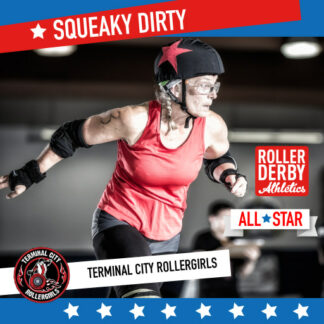 To kick off 2018, I'm celebrating some of Roller Derby Athletics' favourite athletes from the past year! These skaters worked their butts off, were super consistent, and really stepped up their game this past year. All of the RDA Coaches and I are super proud of these #rdaallstars!
Introducing: Squeaky Dirty, rookie skater with Terminal City Rollergirls!
Squeaky was one of the first skaters to join Terminal City's rec roller derby program, "the Mix Tapes," and at age 53, among the first three graduates through the program to join the league's house teams. She's got thee bouts under her belt as a pick-up player, and now helps out with the Mix Tapes program. Her sunny, positive style is well-known to anyone who has participated in an RDA challenge group with Squeaky – she's always giving high fives and encouragement to others as she crushes her own workout program.
Photo by TJ Chase Photography
Q&A with Squeaky Dirty
How did you get started with roller derby? Honestly, I wanted to learn how to curl. I went to my first of three sessions and the lunchboard sign grabbed my eye – Roller Derby – and instantly I was transported back to the late sixties, early seventies with Gwen 'Skinny Minnie' Miller I thought, "I gotta check it out"! I got injured in curling, of all things, so I decided to focus on the much safer sport of Roller Derby!
What do you get up to when you're not playing derby? I am a paper wrangler. I prep documents to be scanned for cyber preservation, thus eliminating tons of paper storage waste. This allows my creative talents to develop, as my mind must keep busy while waiting for the machine to catch up! Besides loving anything outdoors and physical, I am quite the crafter. I learned to knit at a very young age (6) and I haven't been able to keep my hands still since. One of my passions is making practical usable art by recycling, reusing, and repurposing.
What are you working towards in derby right now? My basic footwork skills, so that I can perform at faster speeds and feel confident on the track during games. I am focussing more on backwards skating this coming year as I improve on my forward skills. I am bringing positivity to our league by volunteering, providing solutions, and focussing on growing this holistic sport.
Any big successes or milestones for you in derby recently?
Milestone one: learned to roller skate safely so I could skate around Vancouver's sea wall without injuring and or killing myself or others.
Milestone two: passing Level 4 with MixTapes after i wanted to quit so many times at 53 years old.
Milestone three: actually being able to play with all these amazing people I have admired for the last year.
Milestone four: there are too many to list here, so you'll have wait for the book release :)
How has off-skate training contributed to your derby experience? Invaluable and necessary! I hurt myself right after being accepted in the league. I played through it, and that was foolish. After recovering I realized not only was I putting myself at risk, but others too. Now I make sure I'm healthy and safe (by staying committed to cross-training) every time I lace up.
What is your favourite thing about training with Roller Derby Athletics? I can't pick just one! Once I figured out what I needed to be successful with my training I found the App invaluable. I am cyber-shy at the best of times and normally prefer face to face support. Well, thank you, RDA for proving me wrong. Just knowing I can self direct and have support when I need it through the app is freakin' awesome. Also, I can change my workouts any way I want to suit my needs! Oh and all workouts can be under 60 minutes! Ack! too many! [Booty Quake notes: more about the app here!]
Anything else you want to tell the world about your derby or training experience this year? Roller Derby Athletics has empowered me to continue with the active lifestyle I enjoy living. RDA's holistic approach to strength and cardio training is beneficial for basic aging. Ol' cliché: use it or lose it! I take the time to think about what my body is needing – fuel, rest, action. And Derby Fuel is a solid enhancement program – thank you Lilith NoFair!
I am honoured and overwhelmed with RDA's acknowledgement of my successes. I wouldn't have so many if it wasn't for Booty Quake, RDA coaches, TCRG, MixTapes and my injury during Curling ;)
~~~~~
Keep up the positive attitude and hard work, Squeaky! We can't wait to see what you'll get up to in your second season on skates!
Want to feel #unstoppable just like Squeaky Dirty? Come join the RDA training community and be your best on the track! www.rollerderbyathletics.com/plans