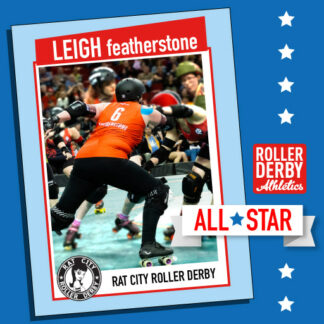 We love our members here at RDA, and we sometimes take a minute to tell the world how awesome they are!
We have a super special member to recognize today. She's been with us since LITERAL DAY ONE – one of the first people ever to sign up for our first Pump Up Your Jam training session, in December 2012. Commitment and longevity like that just doesn't come around very often!
Introducing: Leigh Featherstone. Our coaches had already selected Leigh as our Skater of the Month, and thenwe heard the great news: she's been selected to Rat City's B team, the Rain of Terror! We couldn't be more proud of this #rdaallstar!!
Leigh also skates with Rat City's home team Grave Danger, having moved recently to the Pacific NorthWest. An eight-year veteran of the game, Leigh has previously played with:
Duke City Roller Derby – Albuquerque, NM, USA

Silicon Valley Roller Girls – San Jose, CA, USA

Twin City Roller Girls – Urbana, IL, USA
Photo courtesy of Danny Ngan
Q&A with Leigh Featherstone
What do you get up to when you're not playing derby? I read a lot. I'm also at the gym.
Any big successes or milestones for you in derby recently? It's been wild getting to transfer to a league I've watched online for years. I feel like I just have big hearts in my eyes when I think about who I get to skate with and learn from on a daily basis. And I just made the B team!!
What are you working towards in derby right now? We just finished our home team season so I'm enjoying a few weeks off-skates and trying to let some chronic pains heal a little. I'd really like to focus on my skating skills over the summer because I feel like I just watch the mechanics degrade over the course of a season as we all deal with small injuries, strategy, and long practice hours.
How has off-skate training contributed to your derby experience? Crosstraining is crucial! Some dedicated time outside of practice can save hours of injury and pain. Any physical therapist who sees what we do seems to look on in horror (even if they also skate!) at what we do to our bodies. Crosstraining has helped me to make it through over 8 years of roller derby and keep up with the increasingly physical demands of the game.
I also want to be a reliable teammate and that means being a strong, solid, and capable athlete who can do what is needed. My body needs to be able to do the job assigned for 60 minutes at a time, sometimes for multiple games in a weekend. On-skates practice alone won't get me the results I need.
What is your favourite thing about training with Roller Derby Athletics? I really appreciate that the approach can be tailored by time of season or need. The StrideBooster program really improved my agility at a time when I was trying to figure out how to level up as a blocker. A few weeks into the program I started to get feedback from teammates that it was clear I was doing something different. A teammate commented that she had never before seen me jump on skates (I consider myself to be a land-based animal) and look! I was laterally jumping across the track. I credit the intentional work I was doing off the track thanks to the RDA structure.
Do you have a favourite RDA Workout? JUST ONE?! Okay, here goes… HIIT: Interval Love; Super Plyo!; All of the pre-hab; and I feel like I should add Hufflepuff because I AM a Hufflepuff and Booty doesn't even know what that MEANS. WHATEVER. I'll just go sports with all of my friends now.
Anything else you want to tell the world about your derby or training experience this year?
I had some big set backs in 2017 – my family moved from New Mexico to Seattle with little notice midseason and my training plan totally fell off the rails and I mentally got completely off track. Despite staying on an RDA plan (thanks Booty and team) meant to get me through the time with limited gym access and skating time, my motivation and love for roller derby kind of fell off a cliff. It took me until December to find love for derby again when I started skating with Rat.
Thanks to RDA I was physically ready to go even if I had to mentally rebuild myself – and it showed. I couldn't stay on my feet and I was super tentative everywhere on the track. I'm grateful that my home team Grave Danger took a chance on me mid-season and added me to their already full roster of 19 skaters. It was like the confidence boost I needed to say "let's do this!"
I'm still regaining my confidence in my new organization because I've only been here for five months. There's plenty of history, politics, strategy, and lore I don't know. But I'm skating with people who challenge and encourage me, who make me want to be a strong, capable, and reliable teammate. It's pretty great.
~~~~~
Congrats on gaining a foothold in your new league, Leigh! From the whole RDA coaching crew, we hope we get to keep working with you for at least another 6 years :)
Want to feel #unstoppable just like Leigh F? Come join the RDA training community and be your best on the track! www.rollerderbyathletics.com/plans