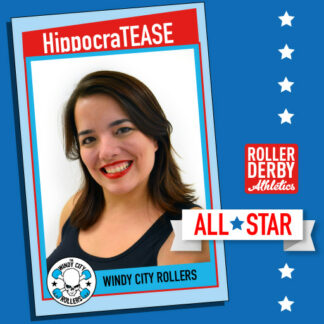 To kick off 2018, I'm celebrating some of Roller Derby Athletics' favourite athletes from the past year! These skaters worked their butts off, were super consistent, and really stepped up their game this past year. All of the RDA Coaches and I are super proud of these #rdaallstars!
Introducing: HippocraTEASE! She's with home team The Fury, and the Haymarket Rioters (rec squad) of the Windy City Rollers!
HippocraTEASE (yup, she's a doctor!) started her derby career with the Midstate Mayhem in Springfield, IL. She had almost completed fresh meat and all her minimum skills requirements before moving back to Chicago and having to start the cycle again. She started training one-on-one with Booty Quake in the fall when RDA introduced our new training app, with a big mission of finally conquering that 27-in-5 in time to get drafted to a team in her new league!
Photo courtesy of Tabatha Wells
Q&A with HippocraTEASE
What do you get up to when you're not playing derby? I'm a family physician, social justice advocate, and crafter
Any big successes or milestones for you in derby recently? I finally passed my 27/5 and was able to be drafted to a home team!
What are you working towards in derby right now? It took me a number of years to pass all of my skills (especially the dreaded 27/5) so now I am just working on my bouting skills so that I can try out for one of our travel teams.
How has off-skate training contributed to your derby experience? Off skates training is what really made me strong enough (and have enough endurance) to be able to finally get my laps in!
What is your favourite thing about training with Roller Derby Athletics? Booty of course! She has been so helpful and encouraging!
Anything else you want to tell the world about your derby or training experience this year? It has been a rough couple years trying to achieve my goals (mostly because I wasn't able to fully give enough of a time commitment to it) but once I was able to dedicate enough time to attend practices regularly and do daily cross training I was able to progress much more quickly through my skills. The gym I attend with small group personal training and the RDA programs are what helped me with that, and I couldn't be more grateful to both!
~~~~~
Congrats on hitting your short-term goal with dedication and focus, HippocraTEASE! We look forward to watching your success in your first bouting season in 2018!
Want to feel #unstoppable just like HippocraTEASE? Come join the RDA training community and be your best on the track! www.rollerderbyathletics.com/plans