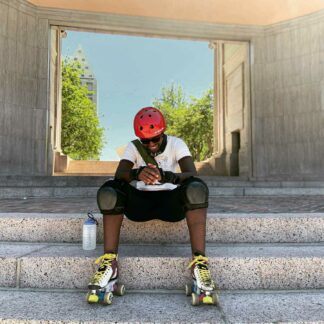 Today is Juneteenth and we wanted to take this opportunity to help share some info while getting to know a prominent Black derby skater in the community. June 19th is a big day for Black people across the country, since the 13th Amendment to the U.S. Constitution abolished slavery across the Nation in 1865. More and more states are starting to recognize Juneteenth as a state holiday, and hopefully soon it will become a federal holiday.
With so many heartbreaking stories in the news right now, people are finally starting to realize how prevalent racial injustices are. A lot of which are unfortunately normal every day occurrences for many People of Color. In the derbyverse a lot of us are working to make our leagues & businesses anti-racist, striving to educate ourselves and help how we can to make the skate community a better place for everyone.
Today we wanted to get to share a feel good feature and get to know Samantha "Jams Bond" Mack (she/her). Jams plays as #007 for Team Colorado Roller Derby and Team Black Diaspora Roller Derby. Jams started building Team Black Diaspora from the ground up in April 2019 along with Marquishia "LarynKill" Winters & Ganesa "Diamond Kut" Ferguson. Team Black Diaspora became a member of the Roller Derby Nations Committee in February 2020. The team is made up of Black skaters from around the world, giving them a space to represent and strongly diversify the skating community.
To learn more about Jams and Team Black Diaspora on Instagram and Facebook, and give them a follow if you're not already!
Roller Derby Athletics: When did you start skating?
Jams Bond: I started roller skating for roller derby in 2014, but I've been skating (roller blading and skateboarding) since I was 5 years old!
RDA: What made you want to help start Team Black Diaspora Roller Derby?
Jams: I Love Black Skaters. I Love Skating with Black Skaters. I have never felt judged or been told I am too much by other black skaters. You need that to succeed, everyone needs to feel powerful without feeling like you're too much. I wanted to give that to other black skaters who might not always have that opportunity otherwise.
It saves you.
RDA: What do you do outside of skating?
Jams: Hmmmm…. try not to have a panic attack! Lol, seriously I try to fill my time spending time with my family, go to the gym and try to feel things outside of my own feelings. I spend a lot of time in my head. So I try to figure out how to be in the real world.
RDA: What brought you to derby?
Jams: What I thought was a women empowering community.
RDA: What's your current skate setup?
Jams: Both of the sets of skates I skate on, park and derby have really really let me down recently. So I guess I'm in the market for new skates hahahah!
RDA: What do you listen to when exercising?
Jams: I open Google Play Music, press shuffle, then start radio on the 8th song. I promise that's my ritual. Also, my mom has also spoken to me about listening to audiobooks while working out and doing household activities. It's hit or miss.
RDA: How do you usually train during off season?
Jams: Normally I try to pack on as much muscle and healthy weight as possible in the off season because derby requires so much cardio.
RDA: What does your on season training usually look like? So when I switch to on season, it's lighter weight and higher cardio but I don't have to worry about losing more muscle and leaning out completely.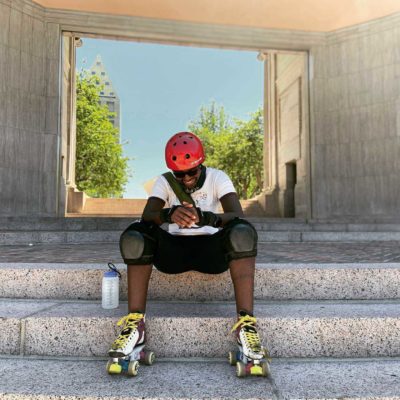 RDA: What's your favorite thing about skating?
Jams: Right now? Skating by myself.
RDA: Do you have any skating related goals for 2021?
Jams: 2021 is too far away to justify what I want then. There is so much to accomplish right now.
RDA: Are you getting in any kind of skating without derby going on? 
Jams: For now it's mostly street skating. Not bowls, think more stairs, parking garage bombs and chunked out wheels.
RDA: Where do you usually hang out on social media?
Jams: Lmao is email social media? I think I probably spend most of my time on IG because I don't have to read anyone manifestos lol. Like the lil pic of you and the fam in the woods and keep it moving. Hahaha.
We wanted to thank Jams Bond for taking the time to answer some questions for us so we can get to know her better. On the Team Black Diaspora Instagram page, they do live shows about all kinds of topics & feature special guests from the Black skater community. Follow their page to see when the next show starts! 
If you're looking for ways to help support the team, their Venmo is @black-diaspora and PayPal is [email protected]
Team Black Diaspora now have merch available for pre-order through the Bout Betties Marketplace. Visit their Shop here!