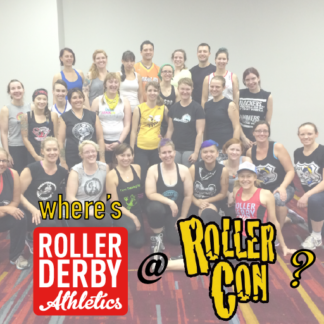 It's that time of year again…Rollercon!!
If you're lucky enough to be attending the biggest derbstravaganza on the planet this week, then come find me for a high five and a selfie!  
Remember, you'll recognize me because my face is on your internet, but I probably have no clue what you look like, even if we've emailed several times! So come introduce yourself – I would truly love to meet you. Plus I'll have some hats and cool new bandanas for sale…
Here's where to find me:
Remember, you do not need to sign up or wait in line for any off-skates or seminar sessions. Just show up a few minutes early :) You can click on the Google Calendar icon for any class to add it to your own Google Calendar!
Crosstrain Smarter Not Harder:
You know you need to cross-train, but what should you do, for how long, and when?? I will cover injury prevention, basic strength, agility, and how to make it fun. Use your off-skate time efficiently to help you meet your goals and be unstoppable. Bring a notebook, decent shoes, and water. **Beginner session is designed for athletes who are newer to cross-training (regardless of derby experience). Skaters with more fitness/training background should attend the intermediate/advanced version of this class! All in Ballroom G:
Fab Form:
This is a returning, smash hit class I teach with Lemony Kickit from Flat Mat Yoga. In this slow paced workout/theory combo, we take a careful approach to ensuring fabulous FORM in your cross training. We will demonstrate and have you practice correct form for strength, plyometric training, and yoga, and talk about the why of alignment and placement for a variety of common exercises. Avoid injuring yourself through improper training form, and ensure you're getting the most out of your strengthening and stretching efforts! If you've ever wondered, "Am I doing this right?" You can find out in this class. Skaters and coaches alike are welcome to watch or participate. Wednesday, 4pm in Pavilion 6
Turn Down For BUTT!
Another class with Lemony Kickit where we talk about our fave subject: butts! We will teach lots and lots of ways to engage and strengthen your bum muscles to make them work for you in your skates. We will obviously have to end this with a session on how to booty quake, because that's super-important. 4pm Friday in Ballroom G.
The Art of the Comeback:
This is a seminar for injured / recovering skaters (and training committee types). We cover the emotional and physical aspects of a derby injury, and I teach how to create a plan that will help you return to play safely and in your own time. Thursday, 12:45pm in Seminar 456
Fitness Benchmarking!
Ever tried the Standardized Roller Derby Fitness Test? Come test your skills with me in person! Test some or all, totally up to you. This is a drop-in session; we'll run the tests in circuits, so come any time but allow about an hour if you'd like to do all five tests. This is Thursday 6-8pm in Ballroom G!
Find your Edge
My only on-skate class for the week! If you have trouble positional blocking or delivering effective hits, it could just be that you need to get to know your edges better! We are going to get up close and personal with our edges, including footwork drills, booty blocking, driving a blocker out, and lateral movement. Youll leave this session with some new tools in the toolbox, and feeling more confident on your skates in general. Bring a skate tool! This session is geared toward B/C level skaters, but all are welcome. Saturday at 5:30pm on MVP training track 2. International skaters (+ Hawaii and Alaska peeps) get priority entrance to this session!