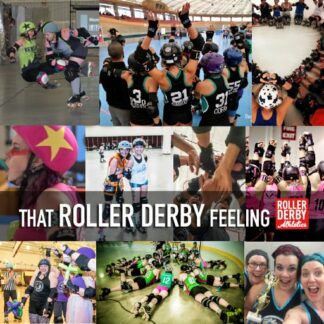 You captured it: that Roller Derby Feeling!
A few weeks back I asked you to send me the pictures that best represented your roller derby experience – the highs, the lows, the silly team moments, the epic fails, and the badass moments of pure victory and joy.
With your help, I was able to create this short promo video for Roller Derby Athletics (and for you). I wanted it to reflect a little slice of the experience we all go through with this sport. Did we achieve our goal? Have a look and decide for yourself:
To get your hands on the free training program mentioned in the video, just click here!  To see the credits for all the fab skaters and photographers featured in the video, scroll to the end of this post! 
The promo premiered on the broadcast for The Big O tournament this past weekend, and it was a great event once again. Those top-tier teams were playing their hearts out, and putting thousands and thousands of hours of practice time, strategy sessions, and off-skate training to the test. The athleticism was incredible, inspiring, and sometimes even jaw-dropping. I'll have some more blog posts coming soon about what I learned watching some of the bouts, and how it can apply to skaters at every level.
Being there on-site with Roller Derby Athletics (and Girls On Track – but that's another story for another day!), I also got the chance to talk to lots of skaters who have followed one of my videos, or participated in a training program with RDA, or are Members! It's always a joy for me to meet my athletes in person. And it's also a great experience to meet people who have never heard of Roller Derby Athletics before.
So here's the deal…
I founded Roller Derby Athletics nearly 5 years ago. My vision statement was "to be the foremost authority on off-skate training for the sport of roller derby around the world."  This may sound cocky, but I believe I have achieved that vision. I think that if people are looking for cross-training support for derby, they will find me, and I will be able to help them.
So what's next? It's time for a new vision statement. I still hear people – even in my own league sometimes!! – who are unaware of all the free resources available on this site. So…  
My new vision for the next few years is for Roller Derby Athletics' content to be known and used by every roller derby league in the world, to keep their members safe, strong, and unstoppable.
If you're still reading this, you've probably drunk my kool-aid already, or at the very least you've read and enjoyed a blog post or workout or two. So how can you help me achieve my new vision??  Here are some ideas:
Make sure your league knows about the free BasicsBuilder program. It's 8 minutes a day for building and/or maintaining functional roller derby strength. No equipment required.
Share the Training Resources page with your fresh meat.
Incorporate an off-skates warm-up and short conditioning workout with your fresh meat training sessions, to help them avoid injuries and level up faster. Need help? I'd be happy to point you in the right direction!
When someone in your league asks "I have 'X' fitness challenge, what should I do to overcome it?" make sure they know to use the search bar at the top left of every page on this site to see what they can find from FIVE YEARS of blog posts and content… it's probably been addressed! And if that doesn't work, they can always email me from the Contact page and I will do my best to point them in the right direction!
Tell your people to sign up for my email newsletter – then they'll get all my free content directly. It's in the blue box below.
What did you think of the ad? Let me know in the comments!
Skater and Photographer Thank-Yous!
My sincerest thanks to the following skaters and photographers whose moments were featured in the promo:
Photographer Nicolas Charest, courtesy of my favourite skate shop, Rollergirl.ca (tons of his work is there on their site!)
Bustylicious & Naz Droveya Wylde – Terminal City Rollergirls
Eves of Destruction Rollergirls
Toronto Roller Derby All-Stars by photographer Neil Gunner (check out his book of beautiful photography!)
Hit Squad TV with Leada Riot
SugarBEATdown and her mom Freeze Baby – Minnesota Rollergirls
PhotoBomber (aka Andree Kehn Wedding Photography) and teammates – Androscoggin Fallen Angels
Irate Pirate – New Hampshire Roller Derby
Violent No-Regard and Tri-City Roller Derby, photo by Joe Mac
Ginan Toxxic – Seacoast Roller Derby, photo by Kendal Bush Photography
Laura Fennell – London Rockin' Rollers
#smashtag & St. Chux Derby Chix – photo by Jeff Higgins
Razorbec – Dragon City Derby Dolls
Shananaguns and the Mad Rollin' Dolls
KT KaBOOM's (River City Renegades) amazing photo featuring Thimbleberry Slam and Jahrmageddon
Dollie A. Troublemaker – Storm City Rollergirls, with photos by Oca Hoeflein and Travis Tigner
ASH #333 – Dam City Rollers, photo by Regularman, aka Bill Zingraf
Jude E. Boom – Boulder City Bombers, photo by Andrew Keyes
Neanderdoll – CoMo Derby Dames, with photo by TK Photography
The Search – Toxic Lima Roller Derby, photo by Free Gonzales Vilches
Team France Roller Derby (photo by me)
And Slamabama and the Leicestershire Dolly Rockit Rollers with the fantastic victory moment at the very end.
And many more thanks to folks who submitted fantastic images that just weren't able to make the cut! They were all great!