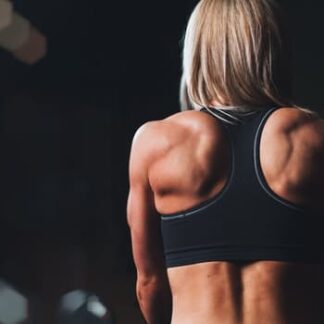 What do you see in your mind's eye?
Visualization, otherwise known as imagery, is a commonly used training technique that helps athletes strengthen their mental performance.
Visualization is not a mental skill in itself. Instead, visualization is a very common practice to help strengthen other skills such as attention control (focus control), self-regulation, motivation, and confidence. In this Mental Muscle post, I will explain how visualization works, and how can it benefit your mental game.
What is Visualization?
Our brains are super powerful! With our thoughts we can visit the past, focus on the present, or speculate about the future, without even having to move from a chair. Our brains can reenact moments and revisit images at anytime. Visualization is our ability to create mental images. These images can be a picture in one's mind or it can be a series of images like a movie. Most people engage in some type of visualization on a daily basis.
Let's try an exercise:
I want you to imagine that you are lying down in bed. Picture the bedroom wall right in front of you. I want you to describe that wall to yourself. Move from left to right, picking up on all the details. What colours do you see? Are there any cracks or imperfections in the wall? Do you have any bureaus or night stands? Are there any objects on them?
Were you able to see your bedroom wall? If so, then congratulations because you just engaged in a form of visualization! If you were able to picture and describe that wall without being present in the room, this means you were able to clearly project that image into your mind. The next step in visualization would be to put together a series of images.
So let's try another exercise:
I want you to imagine yourself eating your favourite meal. See the food on your plate, smell the food before you take your first bite. Feel the weight of your food on your fork or hand. As you take the first bite, feel the textures in your mouth. What does it taste like? Bitter, sweet, sour, etc.
Spectator vs. Actor
When you are able to create a series of mental images in your mind, there are two ways that you can see this movie in your mind: as a spectator or as an actor.
Spectator: This means that when you are engaging in visualization you are seeing yourself outside of your body. Almost the way you would watch a movie: You are watching the actors on the screen. In this case, you are watching yourself performing a task.
Actor: This means that when you are engaging in visualization you are feeling and seeing the images from your perspective. You are in your own body.
One method isn't necessarily better than the other. The reason for choosing one of these methods can be because of personal preference, specific needs, or goals: what are you trying to gain from using visualization? Regardless of what method you choose, what is more important is the quality of your visualization.
Visualization Is More Than Images
Visualization is more than just projecting mental images. The quality of images is just as important than the images themselves. Visualization incorporates your sense of sight of course, but it could include senses such as sound, smell, touch, and even taste. The senses that will be used would depend on the mental images themselves. The more senses that are involved, the more realistic the mental images would become.
Visualization and Mental Skills Training
Why are realistic images important when it comes to visualization? Our brains cannot functionally distinguish actual events and images from these events. Therefore the more realistic these images become, the higher the chances that your brain will think that these images are real. The goal of visualization is to make new pathways (links) within your brain. Since your brain cannot tell the difference between the actual event and images about this event, your brain will think that the mental images from your visualization sessions are from the event itself. Basically, your brain will think it has/can accomplish certain tasks and/or skills.
Athletes can use visualization in the following ways:
Breaking down a complex technique
Helping to correct mistakes
Practicing strategies
Rehearsing competition plans or pre-game routines
Strengthening key mental skills (such as distraction control, emotion control, confidence etc.)
Using it as an injury recovery strategy
3 Important Tips for Successful Visualization:
1. Images need to be Realistic
As I mentioned above, as an athlete you want to use visualization in order to create new pathways in your brain to strengthen skills or strategies. In order for your brain to think that these images are from the actual event, the images need to be as realistic as possible. Visualization uses more than just the sense of sight.
2. Images need to be Positive
Make sure that the mental images that you are creating are positive ones! The last thing that you want is to create doubt or make links of failure to certain events. You need to make sure that the mental images depict yourself as being successful and applying the correct technique/ strategy.
3. You must have Control over the Images
Control comes with practice. It's difficult to hold a realistic image without any outside distractions for a long period of time, so it's a good idea to start with short, yet high quality sessions. It is important to know when to stop — when the mental images are not realistic or no longer positive. 
Now that you have a better understanding of visualization, the next Mental Muscle post will dive deeper into how you can start applying visualization into your mental preparation. From how to get started, to explaining how you can use visualization to enhance practices, prepare for competitions, and use as a post-performance review, it's all coming your way in my next post! Stay tuned!