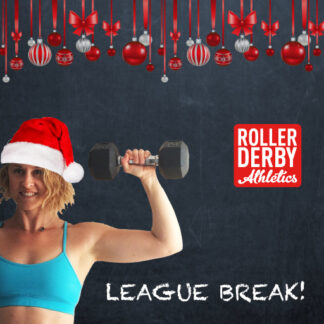 You know I love chocolate, right?
So, if someone told me I needed to give up chocolate to be 3.7% better at roller derby, you know I'd tell them exactly where to shove their advice in a hurry. (#teamcocoa)
And that's why I would NEVER tell you that you should train your ass off throughout your league break and not get any downtime, just for the sake of derby!
Holidays should be fun, and relaxing, and we should all be allowed to enjoy at least one full day in flannel onesie PJs (with feet, ideally) on a steady diet of mixed nuts and cheese dip.
But before we agree that we should all hibernate and start an IV drip of egg nog…
We can get to the other side of our league break feeling stronger and fitter than we started, without sacrificing our well-deserved holiday indulgences. These seven simple steps (I swear, they're quick and/or easy) for enhancing your holiday fitness routines will show you the way! 
#7 – Start Small and Build from There.
Make a small, manageable commitment to daily health. Feel free to do more than you've promised yourself on any given day, but setting achievable targets means you're less likely to abandon the whole plan after missing a single day.
Some suggestions:
10 minutes of a wakeup yoga/stretch each morning;
25 burpees a day;
5 minutes of daily meditation or journaling;
15 minutes of bodyweight exercise a day.
I'm not saying you should pick all of these; I'm saying pick one or two and do your best to stick to them! Or, if you prefer, chunk your commitment into a weekly block. For example: fit in one stretching routine and three runs each week. This is the approach we're taking with the members of the Candy Cane Crew health & holiday fitness challenge, and it's been going great! 
Time commitment: 3 minutes to set a goal; 15 minutes or less to implement each day.
#6 – Finally address that nagging pain
Don't worry about not working out quite as much as you usually do when your league isn't skating; instead make the most of the respite you're giving your body.
Be it a pain in the butt, a pain in the neck, or that general "run over by a truck" feeling we sometimes get after tons of practice and scrimmaging, your league break is a great time to deal with chronic pain or old injuries:
Spend some of that extra time stretching.
Do your old physio exercises that you may have abandoned along the way.
Fit in a trip to a trusted massage therapist if schedule and budget allow…
Or, try my favourite free massage trick – release aggravated muscles with a lacrosse ball! (a tennis ball will do in a pinch!) 
Time Commitment: Varies; as little as 5 minutes twice a day to stretch or mobilize a problem area.
#5 – Un-Lop-Side Yourself
Turn left. Turn left. Turn left again…
Of COURSE we all have ridiculous left-right muscle and strength imbalances!
One great way to "right" that wrong (see what I did there??) is to spend some quality time on a yoga mat. Different styles of yoga will offer a spectrum from restorative stretching on up to a full body strengthening session. Pick your poison and try to remember that yoga isn't a competitive sport (although I always try to win my row…) There are lots of free and paid yoga videos online if you can't make it to a studio.
Another way to overcome your imbalances is to work on stability training. Build your core, balance, proprioception, and agility with this Stability Training Pre-Hab!
Time investment: as little as 15 minutes for a short yoga video, or 10 minutes a couple times a week to do a few of the Stability Pre-Hab exercises.
#4 – Make it Short and Sweaty
Do "It's a Hot Mess" , or the "Killer Core 251" Workout. Or do both! Unless you're illin' or injured, there are basically no excuses for not fitting in 15 minutes of activity somewhere in your day, even if you're staying at Great Aunt Ida's without access to your normal gear or equipment! These two options are each a great full-body blast that will leave you spent, without spending your whole day on them.
Time Commitment: less than 20 minutes: 5 minute warm-up, 9 (or so) minute workout, 5 minute cool down and stretch. You can make it longer if you repeat the workouts for an extra round.
#3 – Plan Your Future Gainz
Time off is a great time to plan how awesome you're going to be next year. So start thinking about your pre-season training ramp-up!
Are you going to join Pump Up Your Jam in January? Start a boot camp program with your team? Embark upon a strength training regimen? Taking the time to plan out your systems for success could just be the motivation you need to get an early jump-start on those activities!
Time Commitment: Varies. 6 Minutes to read my blog post on systems; could be as little as 15 minutes to figure out your own systems.
#2 – Get Out There.
Break out of family-time jail with an outdoor activity to beat the holiday-time blahs! Getting out of an indoor rut can do wonders for your mental health as well as your body, and can help kickstart a habit that you can stick with.
Do it solo, or bring your favourite family members with you (leave the rest on the couch in front of the third consecutive screening of Christmas Vacation.) Go for a run, hike in a local park, walk to the store instead of driving for that extra gallon of eggnog. Throw a ball, play touch football, skate your local ramp if it's dry, go tobogganing on it if not…
There are plenty of options, and the fresh wintry air just may… make your heart grow three sizes that day.
#1 – Mix 2 Parts Variety, 1 Part Motivation, and Sprinkle with Fun
If you don't want to spend any brainpower whatsoever on what to do with yourself each day, then you need to think about a training membership with RDA! 
You'll get the support and resources you need to start chipping away at your derby goals for the season ahead. It's derby-specific training, guided by a dedicated coach who's invested in helping you achieve your dreams, on and off the track!
Our training philosophy goes by the values described in the steps above – taking small steps each day, not depriving yourself, and being 100% judgement free.
So, if you want to get your motivation, metabolism, and muscle-building revved up before it's time for Auld Lang Syne, join up and get started right away!