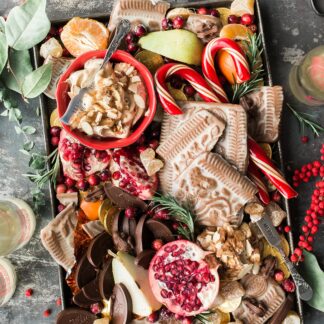 Because sometimes you just need to burn off some shortbread cookies…
I designed this workout to be super quick for the Holiday season. Running around from party to party it's not always easy to find time for your derby cross-training. The same goes for life during the other 11 months of the year too! So this session is just 8 minutes long (plus a minute of rest in the middle). Tack on a warmup and a cool down, and you're in and out in 15 minutes flat.
Each exercise on the list works multiple muscle groups at once. You'll be challenging your body (ahem, lungs included!) in a very short but intense period of time – that's how you're able to get a full workout in such a small window.
Expect to burn a sweat – it's a Hot Mess, after all :)
Here's the drill:
Equipment: A timer on 60 second repeats (or a stopwatch). Optional – yoga mat.
Workout: Do each of the following for 60 seconds
Mountain Climbers
Lunge Jumps x 3 plus a Walk-Out Push-up
Squat Pulse x 3 plus a Star Jump
Burpees
Rest!!
Skiier Jumps
Rollover + Situp
Tricep Walkout
Squat Jump + Tuck Jump
Watch the video through to see how these crazy exercise combos actually work. Here are some additional tips for you-
For the walk-out pushups, I did them with one leg, but you can modify this to be a bit easier by keeping both feet on the floor, or by dropping to your knees for the actual push-up once you've walked your way out to a plank position.
Star Jumps – all I can say is, own it. Don't feel silly, feel like the best cheerleader this world has ever known! Spirit Fingers!!
Skiier Jumps are a cardio beast. The idea here is to pretend you're a slalom skiier jumping side to side over the moguls. Keep your feet together and try to pick your feet up and over with each jump. 1-2-3 pause, then hit your next set of "moguls"…
The triceps walkout is a little confusing, so here's a breakdown: 1. Sitting with your legs outstretched, hands on the floor either side of your bum, put your weight on your hands and lift your hips back and up off the floor (your heels will remain on the floor but slide back). 2. Transfer your weight to your feet, and walk out a couple of small steps as you lift your hips up to a table-top. 3) "march" your feet 4 times. 5) Return to the starting position, and repeat!
Squat jumps with a tuck jump is a great plyometric move. The idea is to do a normal squat jump, but go immediately into a tuck jump without any pause or additional knee-bounce. On the tuck jump, your goal is to get your knees as high as possible!
Good luck! Leave me a note in the comments and let me know if this helped to burn off some holiday baking.
xo Booty Quake