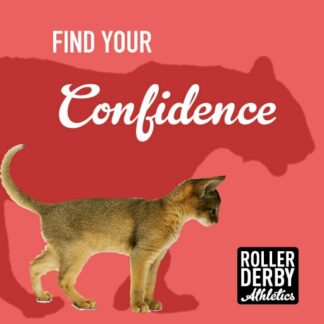 We've all been there. We've all told ourselves we're not good enough, even though we are. We've crumbled under pressure, because we let doubts, fears, and a Debbie Downer of an inner voice kill our confidence.
But here's the deal: no matter how much you train on and off the derby track, if you don't believe in yourself, you'll never achieve your goals and desires.
Here are some feelings you might be familiar with:
"I'm a perfectionist, so I feel frustrated and anxious about my performance"
"I am always comparing myself to my teammates, and I never feel like I'm good enough to actually be on this team"
"I don't have enough confidence in my skills to be able to lead my line on the track"
"I feel (and act) like I'm the weak link, even though I know I'm probably doing fine"
"I'm new, and I feel like I'll never catch up – I'm always in my head getting down on myself about being slow to learn new skills"
These kinds of experiences are so common – we feel this way at work, in social situations, and particularly so in a sport like roller derby! Derby is a complex strategic game, with heavy reliance on both individual skill and group strategy. Plus it's a specialized set of skills that most of us have not been doing for very long! We demand a lot of ourselves, and many of us feel a lack of confidence because 'we're just not good enough' to be as successful as we want to be.
We're here to change that with a Confidence Challenge!
In the next four weeks, I will load you up with new tools and routines to improve your self-confidence on the track (and off), so you can silence the negative inner voice, and live up to your true potential.
Every week, we will focus on a different skill or self-awareness study. We'll cover areas of focus like:
Where does confidence come from?
Knowing your confidence killers
That voice in your head… and how to change it
Powerful routines (like things you can do before practice or games)
… and more.
You'll get some background reading, some 'homework' like a worksheet, or reflecting on your own experience, or practicing a new mental habit, and a chance to reflect on what works best for you as we move through the Challenge together.
(Challenges are free for Members, as always!)
Read on for all the details!
Who:
Anyone who wants to learn how to give their confidence a boost!  You'll be led by me, Jess Bandit (read more about me here!) and you'll get to share in the experiences and growth of your fellow challengers – a group of roller derby players like you, from around the world.
What:
A four week Confidence Challenge to build your confidence through Mental Skills Training
Where:
Anywhere your brain travels! Challenge materials will be provided via email, and a lot of the group activity will take place in a private Facebook group. 
When:
Monday June 5th, for four weeks
All the mental exercises and reflecting, etc. are on your own time.
You can try out the new skills you'll learn at your team practices.
Why:
Because no matter how much you train on and off the derby track, if you don't believe in yourself, you'll never achieve your goals and desires.
[If you're an All-Star or MVP Member, it's free, here!]
See you in there!
– Jess Bandit