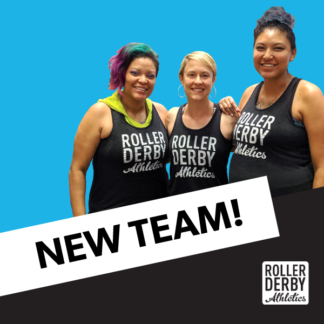 We've been hinting at a big announcement coming, and the day is finally here!
After seven years of creating and building Roller Derby Athletics, it's time for new projects for me (Booty Quake), and new leadership for RDA.
I'm so proud and excited to introduce Bout Betties – Taco Bruiseday and Ratchet-Face – as the new owners and leadership team to take Roller Derby Athletics into its next era!
Bout Betties have partnered with and been great supporters of Roller Derby Athletics in the past, and they really love the RDA community that I've built over the years. They have acquired RDA to ensure it can continue to be a resource to help you get past your plateaus, and find joy in being more active outside of derby practice. I encourage you to welcome and support these two bad-ass business leaders of the roller derby community in their new venture!
"We're excited to be a part of everyone's fitness journeys! We look forward to joining this badass team and seeing what is in store for the future!" – Bout Betties
Collectively, we want you to just keep up the great work you are doing — don't change a thing! I'll be supporting Ratchet and Taco as they continue to learn the ropes at RDA and keep all systems running smoothly in the background. Your Skater Success Coaches, BadBrand and Maloik, will continue to work your butt off, and take on expanded leadership roles in training. Behind-the-scenes team Dimples Diablo and Mikillya aren't going anywhere either, maintaining the über-helpful customer service and support you are used to.
As you may know, I've helped co-found a new business called Rolla Skate Club, focussed on empowering kids and women on rollerskates here in Vancouver. With the growing success and demands of Rolla Skate Club, I'll be stepping away from Roller Derby Athletics. But don't worry! Under Bout Betties' new leadership, our coaches and the rest of the RDA support team will continue to provide you with awesome workouts, challenges and motivation to keep you moving towards your goals on and off the track.
As for me, it's so long, but not farewell. You can continue to connect with me on all of my on-skate projects at Rolla Skate Club / Short Track Roller Derby, and the Girls On Track Foundation.
It has been a pleasure and a privilege! As I say in my videos – "I just kicked your ass, so now YOU can go kick someone else's." Keep up the great work!
Signing off,
Booty Quake xo