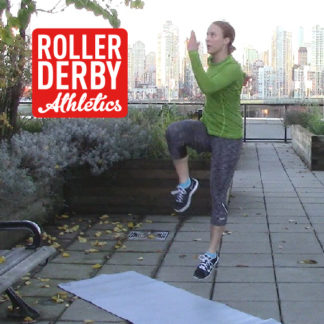 Hey there, friends!
This week I'm offering a sneak peek into what Membership looks like at Roller Derby Athletics. Whether you're an All-Star Member, or a full-blown MVP (which gets you full access to all the training programs too), every single week I create and send out a workout like this one (originally posted in November, 2014).
There isn't always a real-time video to follow along with, but with each workout, I link back each of the movements to a detailed instructional How-To video that gives you the correct form, and mistakes to avoid.  I've included one below for you to check out what they're like.
Each workout always includes a warmup suggestion, a stability training exercise, and a cool down.  For more info on Memberships at RDA and what's included (hint: a ton of stuff!), learn more at Becoming a Member.
Bonus: In this one you get to watch me absolutely dog it through this workout – it's a toughie!! I'm huffin' and puffin' out there!
The Workout
This Side 2 Side Workout is an AMRAP… that stands for As Many Reps/Rounds As Possible.  You set your timer for 15 minutes, and you see how many rounds of this workout you can get through – of course, good form is much more important than achieving more rounds!
This one is also focussed on single-leg activities. Because, you know, we don't usually stride with both feet at once. At least… I don't. If you do, please send me a picture.
Doing these plyometric and single-sided strength moves will really help build your explosive power. It puts a lot more load on the motion to do it with a single leg instead of both. It's a great way to power up a workout when you're ready for a challenge!
If this workout seems out of reach for you today, you can try it instead with both legs for some of the moves – check the modifications below.
The Video
You need: A timer!  Mat optional – nice to have for the squat thrusts and push-ups.
Warm up:  20x half squats | 20x wall push-ups | 20x good mornings | 20 x full squats | 20 walking lunges | 10 squat jumps
All-Star Side 2 Side Workout:
Do As Many Rounds As Possible (AMRAP) of the following, in 15 minutes:
20 Heismans (= 10 each side)
5 one-leg Squat Thrusts each side
10 Lunge-Back + Drive Up each side
5 One-Leg Push-Ups each side
Repeat all through as many times as you can!
Stability Training: Finish with 30 Slow Bicycle Situps (see video below!) = 15 per side.
Cool down and stretch it out when you're done!  **note** I did not stretch my upper body after this, by mistake. I was pretty focussed on my tired legs! And my lats were feeling it for 2 days after! So stretch your chest and upper back, okay? :)
Printable: Side 2 Side Workout
Explanations and modifications:
Watch the video for all the moves!
Suggestions for making this easier: Do the squat thrusts and push-ups with both feet; or do push-ups from the knees.
Suggestions for making this harder: Are you serious? :)
After this workout, you deserve a high five. Post your results in the comments so that we can all High Five you!
Have a great week!  xoxo Booty
PS: here's that How-To video I was talking about sharing with you – Bicycles! This is the stability exercise for the week.
Now tell me how you did, by leaving a Reply below!