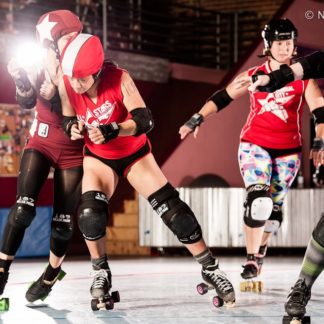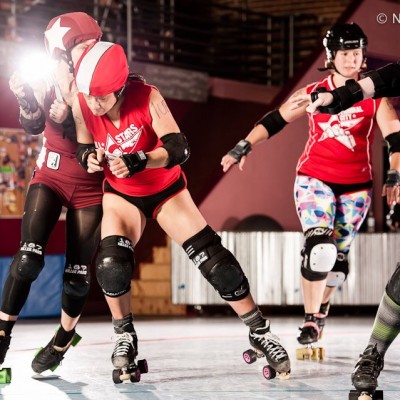 When we saw this post go up nearly two years ago on Player 1's facebook page, it was clear that it had struck a chord. Roller Derby is not a sport for the faint of heart, but it doesn't *have* to be a sport only for the young.
Photo by Nicolas Charest, courtesy of my favourite skate shop,
www.rollergirl.ca
!
There's no way I could have stated these points more thoroughly or eloquently than P1, so she's graciously allowed me to re-post here in its entirety!  Enter Player 1, aka Germaine Koh…  
Thoughts on aging
I turn 45 tomorrow. I'm the oldest player in my roller derby league, and twice as old as some of my league-mates. I'm by no means the oldest person in the sport, but I'm definitely on the far right-hand side of the sport's bell curve.
I'm an Olympics junkie, and it was tough for me to listen to the recent London commentators discuss how improbable it would be for this or that mid-30s athlete to medal, how they should be content just to have a respectable showing. I thought: that's what those athletes' years and years of training comes to, is it?
A lifelong jock, I do know what it's like to do awesome and extreme things with my body, and it hurts my pride each time I encounter something I can no longer excel at — but those moments are happening more and more often, so I need to come to terms with them.
Roller derby is my first contact sport, and I took it up at age 41, three years after blowing out my ACL and a year after rupturing my Achilles tendon. Those were my first major injuries, and despite diligent physio- and other therapy, it's been a challenge to return to top form. Instead, as the derby-related injuries accumulate, I'm starting to realize that I may need to learn to compromise and adjust.
I play with a great bunch of women, most of them ten or fifteen or more years younger than me, and I marvel at some of their skills improving literally by leaps and bounds. I doubt many of them dwell on it, but I am acutely aware of my age, especially at those practices when, against my own best advice, I skate hurt. I recognize that it's pointless and counter-productive, but I swallow my pride and grit through the pain of lap after lap. For someone with competitive habits, the fear of falling behind is more compelling than almost anything.
It's not for lack of training or effort, but I'm struggling to match my own personal bests. My league knows me as a champion of fitness and a student of training methods who leads by example. Although I can still out-pushup most of them, I'm starting to accept that there are real processes of decline that come with age. I'm not under-training, I start to realize; I'm … just … old.
Still, although my abilities are waning on some fronts, I do recognize that maturity gives me an advantage on others. Here's what I've figured out so far about being an aging athlete — though some of these insights really aren't age-specific.
Train smarter, not harder
The small traumas produced by training take longer to clear as you get older, and it's silly to deny that fact by punishing the same muscles day after day. When it comes to repetitive practice, everyone has a point of diminishing return, and I reach mine sooner than I did when I was younger. Taking rest days, or alternating your focus, is just smart. And training while injured is just plain dumb.
Cross-train
Overuse injuries are a real concern in roller derby, especially if you don't have the resiliency of young tissue. It has become clear to me that I'm much better off doing yoga or going for a run — anything, really, that uses my whole body in a balanced way — than attending a third day of practice in a row.
Balance
Not only do overused muscles ache to be balanced by cross-training, you're more useful on the track if you have personal balance. Unlike some of my most eager league-mates, I don't mind admitting that derby is not my entire life. Instead, on non-practice days, I decompress, I have a life, I cross-train, and I honestly think I'm a more focused and productive player because of it.
Be realistic, be informed
There are real physiological changes associated with age: the fast-twitch muscles that give speed and power decline significantly, plus there's "declining VO2 max, reduced strength, increased body fat, reduced lactic acid clearance, declining bone density and more" (Richard A. Lovett, "The Science of Aging and Running," Running Times, November 2009. http://runningtimes.com/Print.aspx?articleID=17947). But in my case, with age also comes enough wisdom to research the facts and modify my training in a practical way.
Self-knowledge
I've always been focused on becoming Faster, Higher, Stronger, etc. However, as I've begun to accept that I may not be as naturally fast as I once was, I have to assess pragmatically what I should focus on. I now think strategically about optimizing my particular strengths and developing new ones, doing what I can to minimize weaknesses, and recognizing the difference between productive aches and injuring myself. Visualization can be a great tool for athletes, but my problem lately has been that I keep imagining myself doing things that my aging body contradicts. I'm still working out how to reconcile the optimism of visualization with the reality of corporeal limits, but I think the answer may lie in self-awareness.
Evolving strengths
Okay, so my fast-twitch muscles are disappearing. Other strengths have emerged that I never had before: endurance, for one. I used to be a sprinter, with all power and no stamina, but somewhere along the line I developed a capacity and a taste for the long haul. My viewpoint has also emerged from a tunnel to encompass much more, and I'm more self-directed because I'm taking responsibility for finding the right way for me to train. There's value in these skills; they're just different.
Find the right role for you
When I started derby, I assumed I'd be a jammer. My mental self-image was still of a fast, agile, and offensive-minded athlete. But something hadn't yet sunk in: I'm getting old. I still jam when needed, but I'm learning to love the craft of defense and the synergy of teamwork, and I've become a strategy nerd. I crunch numbers as well as abs. I'm seeing patterns and potential plays on the track (the bigger picture?) that I was totally unaware of when I wore the jammer blinders. Over this past year, my team has really been learning to work together, and I've contributed to that. I'm not in this sport for the glory, so I'm okay with being the kind of player that most fans won't notice. My coaches and teammates know — and the statistics bear out — that there is a unique role for me, even if it's beneath the radar.
Trust your experience
I've played sports all my life, some quite competitively. Sometimes I feel a kind of instinctive knowledge, accumulated through years of being in competitive situations, kick in. My body knows how to bear down in a crunch, remembers how to find my reserves. I think practice and experience not only build muscle memory, they must also build strategic instincts and a kind of mental strength.
Patience and maturity
— Two more characteristics I didn't have before. I'm not sure where they came from, but one day I realized that I was a de facto leader on my team, one of the people others looked to for constancy and stability. I may not be the fastest, but my team knows that I'll be there for them. And realistically, as much as I agonize over my performance, I do know that I'm doing pretty okay for an Ancient One. I may be better at rational self-assessment than I ever was.
Grace and humility
I realize I am not aging easily, but I am trying to find new ways for me to be an athlete. Yes, I wish I could be young again. I wish this amazing sport had existed in my physical prime. I realize that I'm not on the path to the Olympics. Still, I am going to forgive myself for having limits.
Carpe diem, but have an exit plan
I love roller derby, but this is probably my last year playing. Fate willing, I hope this time next year to be part of my league's first team to go to regional playoffs. This sport, which is on an accelerated evolutionary path that has barely even started recruiting hockey players or training youth, is going to pass me by before long. So I've already started looking around for my next sport, to soften my eventual retirement from this one. I'm not just going to let that river of time take me where it will. If you know of a sport that welcomes wily old folk who can throw a hipcheck, hit me up.
PLAYER 1
Terminal City Rollergirls All-Stars (now retired)