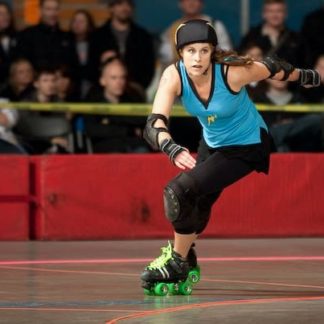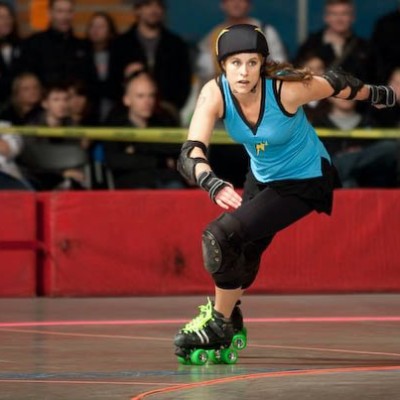 Photo courtesy of my favourite skate shop, www.Rollergirl.ca
One of the biggest challenges that haunts all new derby athletes is their minimum skills testing, and particularly the endurance skill – the ol' "25 in 5" as it used to be called, now the much-less-catchy 27-in-5 laps test, used by the WFTDA as a benchmark for all skaters.
[bonus points to you if you can devise a clever nickname for this skill/test that we can all start using. Put it in the comments below!] 
Just 300 seconds long, for many new skaters this exercise feels like an eternity of raw lungs, low back pain, foot or shin cramps, and burning thighs. The test haunts them through their fresh meat days as they set every fiber of their being towards trying to break the 27-lap mark and get this monkey off their backs.
Unfortunately, simply "trying harder" is not going to be enough difference for many skaters who are several laps short of the target. 
I want to help you "try smarter." 
Last week I posted a question on the Roller Derby Athletics facebook page, asking readers for their best tips for someone struggling with their endurance skating.  I got hundreds of responses! (thank you!). Tons of them were tips that my fellow TCRG coaches and I have been sharing with our trainees for years, and there were a few new ones too. It was really great to see the range, and which ones were suggested over and over again – showing that they work for most skaters.
The tips can be broken down into three main categories:
stride/skating technique
mental tricks
conditioning
Here are 27 of the very best tips to help YOU do your very best on your 27 laps endurance test!
Stride and Skating Technique:
Through the corners, turn your shoulders and head to the opposite side of the track
Rhythm: use slow, steady, rhythmic strides; count your strides per lap and try to stay consistent; avoid fast choppy strides
Pursue good cross-overs, or as I like to call them, "cross-unders"; use BOTH feet to stride (yes, your inside foot too). This takes leg strength and practice!!
"Skate the diamond" – in other words, the most efficient path around the track.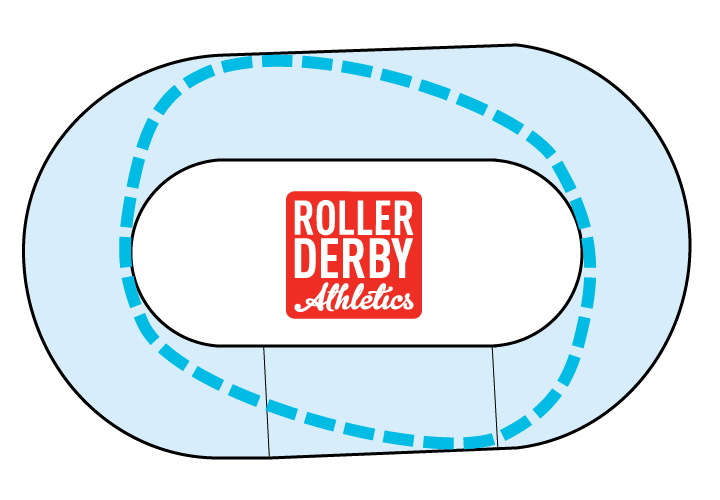 Diamonds are a girl's best friend. There are other versions of this diagram that indicate exactly where on this path you should execute a cross-over, but this is a starting point that will work for skaters at all levels.
Mental Tricks:
Focus on improving a little bit each time you try. Set interim goals. If you're at 22 laps now, shoot for 23.5 laps on your next attempt. Keep building.
Set a goal of laps per minute to keep yourself on pace (27/5 = 11 seconds per lap, = 5.4 laps per minute – feel free to re-do the math according to your current personal goal).
Follow a 'pace bunny' – someone who's a little faster than you, and try to keep up
Count strides, count breaths, or use other mental imagery to move your focus away from physical discomfort.
Use positive thinking ("you've got this!") – more in this post about imagining yourself to greatness or this one on being more awesome
Get into a rhythm (as listed in technique) – try skating with headphones if music would help you! 
Control your lungs by breathing rhythmically if you tend to get winded: in through the nose for one stride, out through the mouth for two.
Conditioning:
Well, as you might imagine, I have a LOT to say about this particular topic. I could fill a few posts with this subject (and I have… and I will…). For the sake of brevity though, I am focussing here on the key aspects of conditioning that I find lacking in skaters who are struggling with their laps.
In general as far as conditioning goes, you can probably place yourself in one of three categories for what you feel is your limiting factor in your laps:
Group 1: Mostly my legs are jell-o
Group 2: Mostly my lungs are on fire
Group 3: Both :)
For Group 1 – work on improving leg strength and muscle endurance. Try:
squats,
lunges,
wall sits, and
one-leg squats.
If you struggle to get deep crossovers (cross-unders), thensideways step-ups onto a chair or bench are an excellent move to target the full chain of motion including inner thighs.
Sumo squats will also help with those cross-unders!
In general, add two or three high-rep strength training sessions (these can be at home, body-weight only), incorporating the above exercises, to your weekly routine to build your muscle capacity more quickly than skating alone.
Add cycling workouts to the mix for excellent power and endurance training. Stationary bikes or outside!
For Group 2 – if your stamina is holding you back, focus more on your cardio endurance.
Go for HIIT workouts (find dozens in the workouts area on this site), jogging, and cycling. Get your heart rate up and keep it up for 25-30 minutes (or more).
For fastest cardio gains, I like to advise a mix of longer, "steady-state" workouts where your heart rate remains in the lower end of your aerobic range the entire time (30 minutes or more), and shorter interval workouts with bursts of more intense activity (12-30 minutes total). 
For steady state, your "Rate of Perceived Exertion" (RPE) should be about a 6 on a scale of 1-10, where 1 is eating a bag of chips on the couch, and 10 is maximum output – say, piggybacking two teammates in the 100m dash.
For intervals, shoot for an RPE of 8-9 in your work periods and a 4-5 in your recoveries.
For Group 3 – you feel lacking in both major areas:
You know what to do! Check tips 12 through 23 above. Incorporate a mix of strength and cardio work into your cross-training.
For all –
Regardless of which area you find needs the most work, long outdoor skate sessions are a great tool to build your skate-specific muscle and cardio endurance. Just watch for overtraining issues: if you have nagging pains from practice, or you grow some new ones the day after a long skate, then think about cross-training instead of skate training. Bike/spin, run, swim, etc.
On skate conditioning
Supposedly it was Einstein who suggested that the definition of insanity is doing the same thing over and over again and expecting different results. He was a pretty smart guy, but he forgot that PRACTICE is a really effective tool and can produce great results in skating. But he's right that we have to change the way we practice, to get results.
Instead of only practicing skating 5 minutes at pace, try some variations to your endurance lap training:
Skate until you've done 27 laps (or 30) – this will help your muscles train for the full distance, not just the time.  If practicing with your team, you can all continue to skate until the last person has reached the distance. This allows everyone to continue improving and pushing themselves together. Skaters can move to lane 4 or outside the track when they've finished 27 laps.
Skate intervals for 6 or 7 minutes (or more) – start with a 1:1 ratio of work to rest (say 30 seconds each) and work towards a 4:1 or 5:1 ratio. "Work" should be faster than your current 5 minute pace (you can target exactly the minimum 5.4 laps per minute pace required by the WFTDA test if that's what you're working toward); "rest" should be an active recovery pace, still working on an efficient, quality stride technique
A variation on the above is to run intervals 'by lap': Skate 3 laps hard and 2 easy, and work your way up to 5 and 1 or 6 and 1. You can even do this during your actual laps test if it helps you to break down the test into more manageable chunks.
Putting it in perspective…
Let's remember that, like all the minimum skills, the Endurance skill is something roller derby athletes need in real game play situations on the track – and not just jammers! It's not just a test for testing's sake, it is a meaningful evaluation of your ability. Efficient skaters with good strides make better derby players. So once you've made your 27 lap mark, it's not time to stop working on your stride and fitness…
…You're just getting started.
xo Booty
PS: did you know that with the RDA Fitness App, you can get access to tons of workouts designed specifically to help derby athletes succeed at passing their minimums, and levelling up from there? Check out our training plans here.