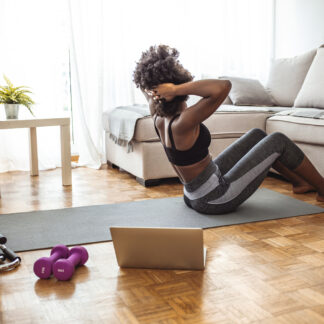 Have you been feeling down from not skating as much? Have you lost strength and muscle definition amidst the panini? If so, you may be tempted to join the gym. However, joining a gym isn't always necessary especially while still in a panorama. You can get fit in the privacy of your own home – and on your own terms.
Try these tips to train in your own home:
Invest in some key equipment. While it would be nice to buy a squat rack, chances are you won't have enough room at home for it. Instead, think about other equipment that can aid your workouts that don't take up much space.

A kettlebell and some mid-weight dumbbells would be a good start as they can add an extra dimension to your home workouts.
You may also want to invest in some resistance bands or perhaps a skipping rope to perform cardio in your garden.
Clean the house. Very few of us like doing the housework, but doing those chores are a good way of getting fit. Plus, you're making your house healthier and more presentable too, which will help uplift your mood.
Use your surroundings. The furniture around your house, even your walls and surfaces, can be used to create interesting exercises and workouts.

For example, you could use a chair to perform tricep dips, or perhaps even step ups.
Use your imagination and you may surprise yourself with the possibilities. 
Use those empty gaps of time to exercise. Waiting for the kettle to boil, or perhaps during TV commercials, could be the perfect time to do a few exercises.

These short 30-second workouts can add up to something significant by the end of the day.
Try body weight exercises. Although we earlier mentioned buying certain pieces of equipment, you don't really need them if you prefer body weight exercises. From squats, to push-ups, to burpees, the possibilities are endless.
Load up that fitness DVD. At the back of your cupboard you may find an old celebrity fitness DVD. Perhaps it's time to give it another shot?
Browse YouTube. If you're struggling for workout ideas or motivation, take a moment or two to browse the RDA YouTube channel. There are many many workout videos available with numerous routines you can follow.
Keep workouts short. You don't need to work out for hours to see results. Even 20-30 minutes a day can produce dramatic benefits.

Ensure that you give 100% when you do exercise. Otherwise, you most likely won't see the results you would hope for.
HIIT (High-Intensity Interval Training) is a good idea as you are working out to set intervals, where you will be giving 100% followed by a short break.
Practice yoga. Yoga is good for both your mind and body, so it's worth adding it to your home workout routine. Luckily, you don't need to be an expert to experience the benefits!
As you can see, it's certainly possible to get fit in the comfort of your own home. A full gym membership may seem like a good idea, and they will certainly have more equipment than you have at home, but it's an expense that you may wish to forego, especially during these uncertain times we're living in. Workout in the comfort of your own home by using the RDA app and enjoy exercising on your own time and comfort. 
Want help boosting your cross-training? We've got you covered. Just enter your information and we'll get you started on your way to being a more stable and confident skater, for FREE!
Get Derby Strong. Eight Minutes a Day. No Equipment.