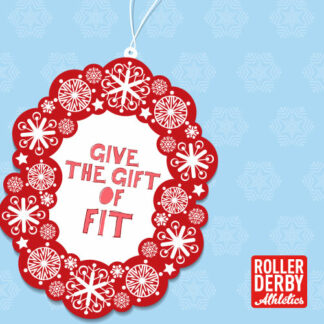 Happy Festivus, everyone!
If you want to make someone's day (nay, year!) with your thoughtful gift-giving, Roller Derby Athletics has your back.  Our new-for-2017 holiday gift certificates are guaranteed to FIT! (Heh, heh, heh, get it?)
They'll also be the right size and colour, and promise to help make your favourite skater's dreams for the track come true.
This year we're offering personalized skater gift certificates, in the amount of your choice, that you can print out or email to your favourite skater to make their new year bright (and sweaty)!
You can choose to purchase in the value of our Essential or MVP Training Plans (details here) or choose your own value! 
How this works:
Fill out the form below 
Submit your payment via PayPal (instructions in the form)
We create a personalized PDF gift certificate to make you look like a TOTAL HERO.
We email the certificate for you print or email to your lucky recipient.
Your recipient gets instructions for redeeming whenever they are ready! 
Complete the form and payment by 5pm on December 23, and get your personalized certificate delivered by December 24. We'll send it to you, the buyer, so you can choose how and when to give it to your favourite snowflake.