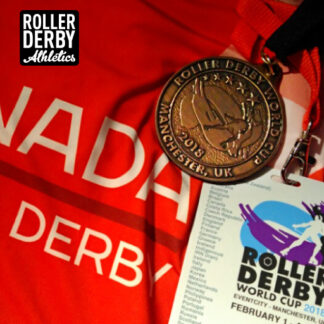 By Jess Paternostro, aka Jess Bandit – Team Canada Roller Derby Head Coach
Have you ever wondered how a diverse national team mentally prepares to compete on an international level?
Short weeks ago, the world watched and cheered as athletes represented thirty-eight nations at the third Roller Derby World Cup. Now that the dust has settled, and Team Canada is back home and living in our World Cup bronze medals, I want to pull back the curtain so you can get inside our team's mental game.
When I was appointed head coach of Team Canada in 2016, I knew I wanted to place an importance on mental skills training and preparation. Having competed at the last two World Cups, I had witnessed many athletes and teams crumble under the pressure.
My goal was to remove as much unwanted pressure as possible. I wanted the team to focus on our performance, and not on the outcome of the game.
We saw some great success with our team strategies, and they are all elements that any coach, team, or athlete could implement.
With an inside look on how Team Canada mentally prepared, here are my top 5 coaching tips!
1. Know The Importance Of Mental Training
Coaches and athletes need to buy in and see the value of mental toughness. Coaches need to highlight the passion for mental performance, and help facilitate its development. It's important for everyone to remember that athletes are not born with a strong mental game. Being mentally tough requires time, practice, and effort.
Athletes can be physically, technically, and tactically ready to perform but distractions, unnecessary pressures and/or a negative mindset can hinder their performances. This is where having the right mind frame comes into play. When athletes see the importance of, and have the tools to strengthen their  mental game, they're more likely to take control of their own mental skills training.
Some Team Canada athletes took charge and began engaging in practice goals, post-practice reflections, visualization, breathing exercises, and even positive self-talk.
"Throughout the 1.5 years of training with Team Canada, our coaches also assigned monthly homework assignments. These assignments not only helped us consider the importance of our mental game, but also allowed us to consider how we can train ourselves to focus and excel during those dire moments when challenges seem to be excessive" -Crazy Squirrel
2. Promote a Team-First culture
Team before the individual: This was the environment we developed throughout the last year and a half. It did not matter who was on the World Cup charter or how many games someone played; EVERYONE played a vital role on the team. This helped take away the internal competition that can be found on a team of this caliber.
Instead of trying to fight each other to get on the game roster, Team Canada athletes were supporting and inspiring each other to grow. Positive relationships and camaraderie were the backbone of the team.
3. Create Shared Experiences
Team Canada used shared experiences to learn about key mental skills training concepts and to communicate more effectively.
For example, during a self-awareness workshop the athletes learned to describe their performances with colours. It was easier for athletes to identify the quality of their performances by announcing their colour (red, yellow, or green). It also made it easier for teammates and coaches to support that athlete's needs based on their colour. 
Games were another tool. The day before the World Cup began, we played a game of knots. The entire team was linked together in a tangled mess. The goal of the game was to untangle ourselves without breaking any links. This fun game took thirty minutes to finish. We could have stopped the game at any time, but we kept at it. It was a frustrating activity, but with determination, focus, and clear communication it was achievable. Before certain games at the Cup, I would refer to "knots" to remind the team that we had demonstrated the ability to overcome challenges. If we could play knots for a half an hour, then we would rise to the top of any challenge. 
4. Create Routines
Set routines allowed the athletes to gain control in a stressful environment. These routines were used throughout the year leading up to the World Cup, so they weren't new experiences during crunch time. Routines allowed the team to get into their optimal performance zone with more ease, as their bodies and minds could slip into auto-pilot.
Team Canada had routines for roster announcements, pregame warm ups, and post game recaps.  Pack / jammer discussions featured in a lot of our routines. These discussions help put the focus and the control back into the team's hands. 
"Talking with my pack often helped a lot. We came from all around so to really play together you have to understand every move your teammates are going to make. You have to develop a real chemistry. Talking before and after each game helped." -Al K Traz
5. Lead By Example
I always said that as a coach, if I expect the team to put 100%, then I need to put 110%.
The same goes with mental toughness. If I expect the team to be positive, calm, and focused, then I need to lead through example. This piece of advice is for coaches, but also for captains or general leaders on the track. Poise and confidence can go a long way, especially when the pressure hits. Those are the times were the team will be relying on you the most. 
A Glimpse Into The Athlete's Mind
We worked hard on Team Canada's mental game to make sure that the team was ready to meet all of the challenges head on, with a positive attitude and a smile.
Going into the third place game, we wanted the team to feel confident and focused on what we could do, not what the other team was doing to us.
So did it work? Let's hear directly from the Team Canada athletes on how they felt, and how they channeled their mental training, heading into the bronze medal bout against Team England:
"I set small goals for myself for every practice, game, and tournament. One goal was always for me to stay in a 'green zone' or positive head space. That's how important it is to me. I can say that I was calm as a cucumber in our third place game against England at the World Cup" -Labrosse

[My goal was] "not be emotional at all during that game. It's what prevents smart play and adaptability" -Al K Traz

"I felt trust and I felt confident that whatever I gave to the team would be the best I could give, and that my teammates would all do the same. I felt we were there as Team Canada; no one was there as individuals. I felt happiness and pride." -Crazy Squirrel

"After the first few jams, I was very aware that Canada's mental game and attitude at that point was going to win this game for us. All the times that we had to get it together and met up as a team and communicated with each other throughout the year leading to this game strengthened us on the track…  the trust and relationships and bonds that we had created… We had the communication, positivity and willingness to go play quality derby to the best of our ability, confident that we could do what we wanted to do" -Ohtake aka K-Wow

"At half-time, Team Canada was so quiet and calm, but also confident in what we felt we could do. I really cherish those moments, and am really proud of the composure we maintained" – Labrosse
Remember that roller derby is a complex sport, and athletes are always trying to improve and strive for their best. Mental skills training is a key pillar in any athlete's or team's development. Strengthening your mental game is not just for national athletes, it's a mind frame that everyone at any roller derby level can improve.
How does your team mentally prepare? What are your favourite tricks to help everyone perform optimally when it counts? Tell us in the comments below!
Heads Up! I'll be leading our second annual Confidence Challenge, starting March 5th! If you struggle with feelings of anxiety about your performance, low self-confidence, never feeling quite good enough… this month of focussed mental skills training can help you get into a more confident mindset and unlock your true athletic potential! More details on the Confidence Challenge here.