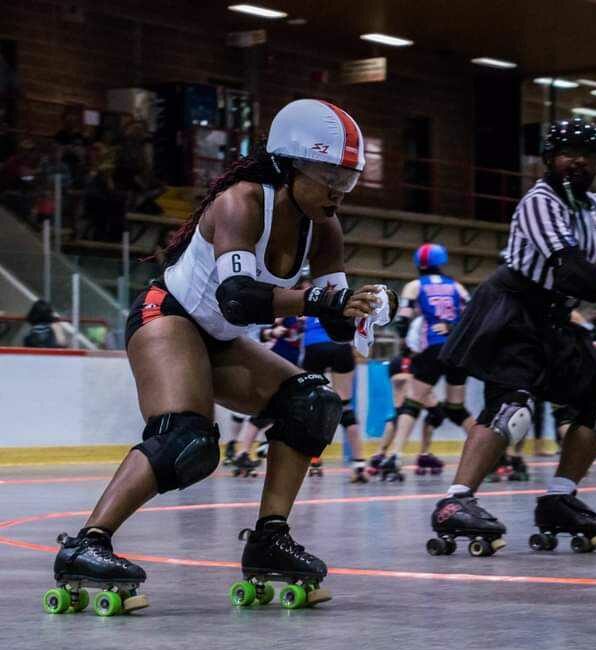 Fleur De Lethal (aka Jazz D.) started skating in the Summer of 2013 as part of the (then) Nashville Rollergirls Rec League program. After barely passing minimum skills and going through a long and difficult process of becoming skilled enough to safely scrimmage, she started dedicating extra time outside of practices to mastering the fundamentals and understanding the game.  Through the process of teaching herself and working one-on-one with her passionate and knowledgeable derby sister, Tear O'Bite, she developed an enthusiasm for teaching new skaters coming into the league, using what she'd learned to help them overcome obstacles faster than she did.  This was the beginning of a years-long and ongoing development process of her current coaching and training style.
Eventually, Lethal became a member of Nashville's travel team, the Music City All-Stars, but she never skated with the team. In October of 2016, she moved to Austin, TX and transferred to Texas Rollergirls after trying out that Winter and being drafted to the Hotrod Honeys.  While in Austin, Lethal continued to lead practices when given the opportunity.  In addition to leading some off-season practices with Texas Rollergirls, she also spent time as a guest instructor or coach for Bat City, a recreational group, and Austin Anarchy, an MRDA team.
It was shortly after Lethal became a member of the Texas Rollergirls B-Team, the Firing Squad – eventually renamed the Chainsaws, that she met the person that would eventually become her new personal trainer, Jon Brown.  Jon provided what felt like the missing links to her off skates training.  Her philosophy on fitness changed as she learned more about how to develop and take care of the body of an athlete.  The more she learned and read, the more she developed an interest in how to teach and train derby athletes holistically – on skates, off skates, and mentally.
Now, Lethal is a personal trainer with several skater and general population clients that she trains virtually and in person.  In addition to a degree in Human and Organizational Development, which helps her navigate the mental and emotional aspects of training athletes, she also has certifications in Intelligent Program Design, Habit Coaching, and most recently acquired a DBC Level 1 certification from the DBC Team in Miami which is known for training professional athletes from all across the U.S.  Lethal aims to take the Certified Strength & Conditioning Specialist (CSCS) exam this Summer.
When Lethal isn't working as a trainer or working on one thing or another for her league, she enjoys watching anime, watching sports and sports talk shows, cooking, and watching or listening to anything involving Daveed Diggs.
Photo by Emi BK, used with permission 
Want to see more of Lethal and learn a thing or two? Check out our social media pages! We're on YouTube, Instagram, Facebook and Tik Tok!